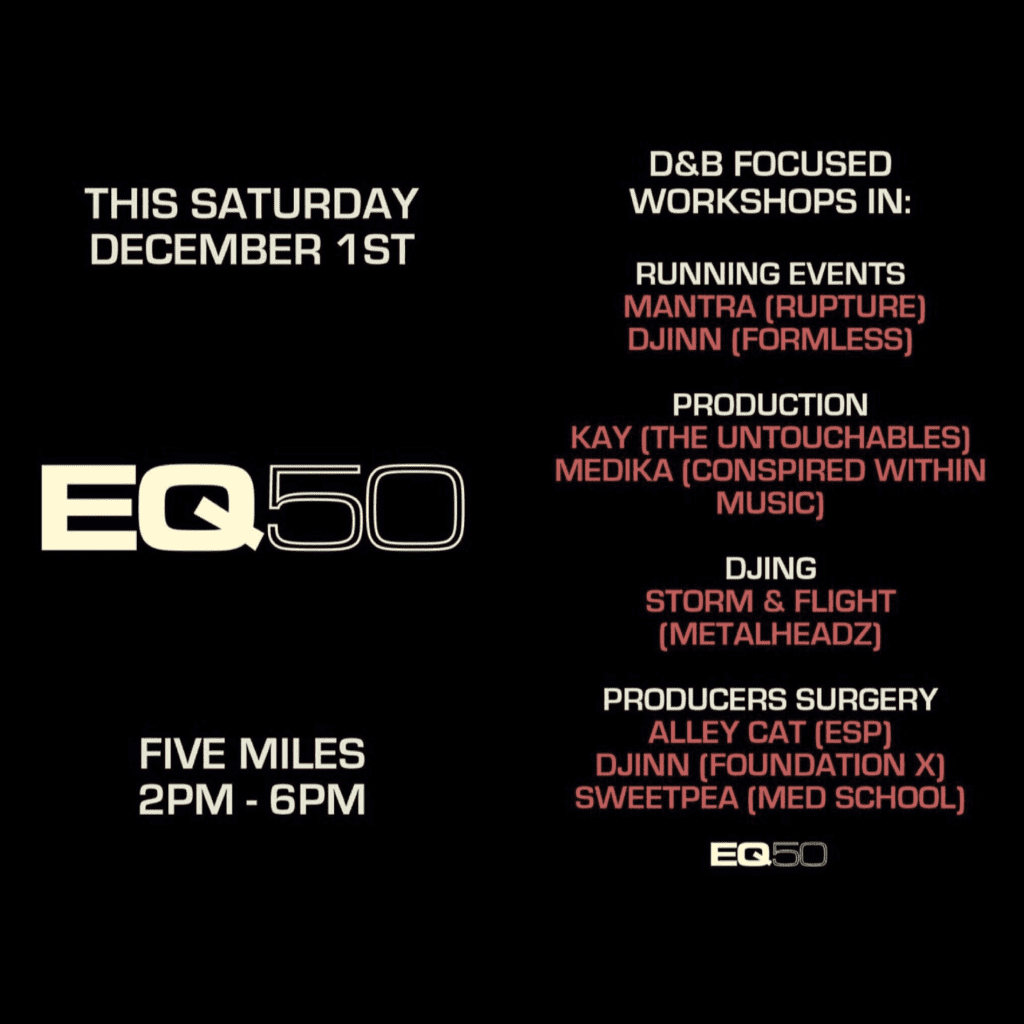 London collective Rupture are fresh from hosting one of the city's longest-running and widely-revered underground drum & bass nights, and they're already gearing up for another essential event.
Introducing EQ50: A free afternoon of workshops featuring some of the scene's key figures and driving forces who will be sharing years of invaluable experience and knowledge, with the aim to support and inspire women and non-binary people to get involved and progress within the D&B community.
Kicking off at Five Miles tomorrow, the schedule is looking jam-packed with useful workshops with some of the scene's most inspiring names. Covering events promotion with Mantra & Djinn, a DJing seminar with the legendary Storm & Flight, music production with The Untouchables & Medika, as well as a producer's surgery with Sweetpea, Alley Cat and Djinn, who will be inviting aspiring producers to submit their tracks for constructive feedback, EQ50 is setting out to bring more diversity to the scene, and doing so in serious style.
We caught up with founder Mantra to find out more…
So what inspired the idea? 
We hosted a Normal Not Novelty Red Bull event in February this year which was really successful. Lots of women got in touch to see if we were going to do another event in a similar vein, so it grew off the back of that. We decided to host it on a Saturday so that women who lived outside of London could also attend.
Drum and bass is typically monopolised by men and we'd like to take steps in shifting that paradigm. The aim of the event is to have a space where women can get together, share ideas and network. Maybe some seeds of inspiration will be planted and in a few years time we'll have more women in positions of authority within the scene, as artists, or running events and record labels, booking women and releasing their music. The more women in positions of power the more the genre will attract women. Better diversity = better raves!
Indeed! Are you planning more events like this in future then? 
I hope so. We'll see how December 1st goes and what the feedback is from the women attending. It would be great to expand on running a record label, vocals, engineering and any other facets of D&B that women may find useful. We've also had a high number of men wanting to attend, but this event is exclusively for women and non-binary people. If there's a high enough demand then we'll definitely run an event that's open to all.
Anything else you want to add about the event and why it's important in today's scene/ social climate? 
It's going to be a really relaxed, warm space, so even if you're a D&B lover but aren't actively involved behind the scenes or DJing/ producing, then you're still welcome to come down, have a drink and hear these incredibly talented women share some pearls of wisdom!
All the facilitators work in D&B, so are almost exclusively working with men. It will be really empowering to get together as women in our own space to learn from each other and take steps towards shifting the ingrained patriarchy within electronic music.
EQ50 is taking place tomorrow and is totally free – RSVP here to get involved
Rupture:
Facebook
Twitter
Instagram
Drum&BassArena:
Join the family
Spotify
YouTube
SoundCloud
Mixcloud
Facebook
Twitter
Subscribe to our weekly newsletter