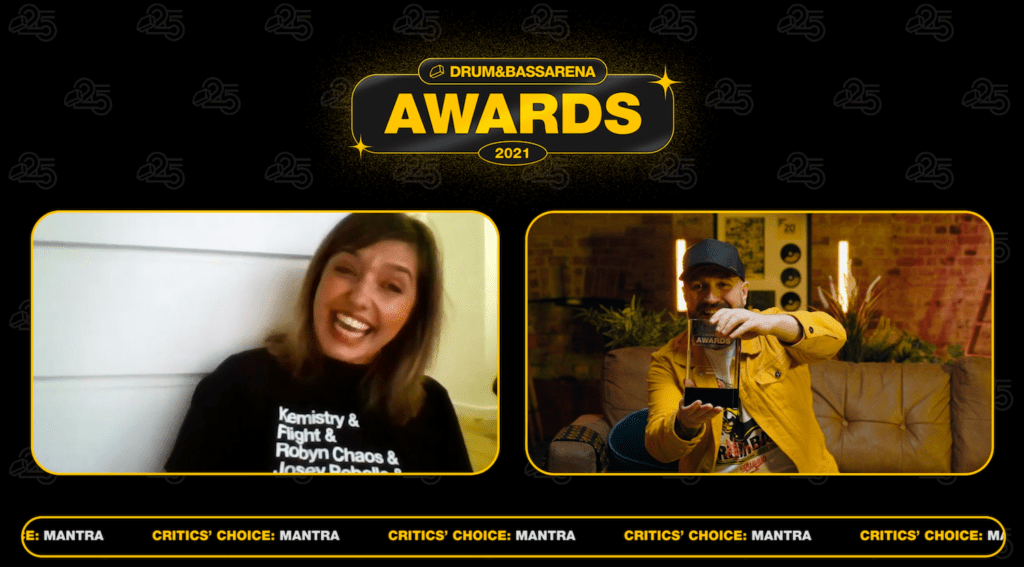 That's a wrap on this year's Drum&BassArena Awards!!! Marking the end of one of the most strange, worrying, exciting and unique years in the history of our industry.
Our 13th ceremony aired last night, presented by Jenna G and our man in the rave cave, Dave Columbo Jenkins – we hosted a fully virtual ceremony with a whole host of winners and nominees joining us in the studio and via Zoom.
2021 was a year of 2 halves as we continue to navigate our way through the troubles imposed by the pandemic… With half a year of vague and unpredictable restrictions for some around the world, half a year back on the dance floor for others, one thing remained constant: Music has once again brought us together in difficult times and our community spirit remains as strong as ever, with creativity continuing to flourish even through the darkest of times.
These themes rang true throughout all our chats with winners and nominees last night, with many sharing similar sentiments about the year gone by as we surprised the winners with news of the results…
Highlights from the night included Mantra receiving the Critics' Choice Award after an incredible year behind the scenes at EQ50, London's jungle staple Rupture, as well as a busy itinerary across clubs, festivals and streams.
Dom Whiting picked up the Best Newcomer and Best Live Stream Set Award for his phenomenal Drum & Bass On the Bike series that has launched him into a truly global audience.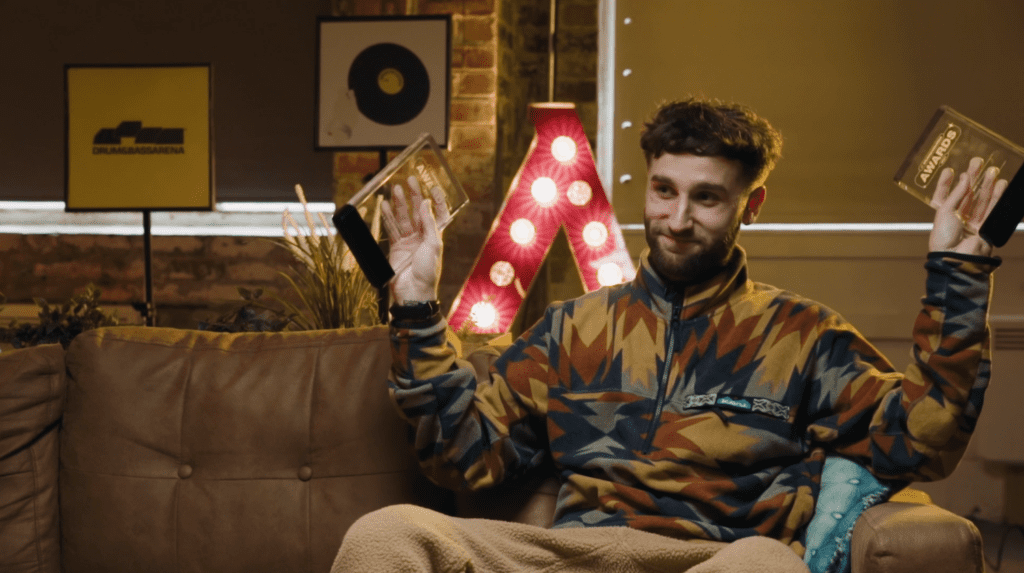 We also welcomed an emotional DJ SS to our Hall of Fame for his life-long commitment to D&B and laying the foundations for the scene we know and love today. He joins the likes of Goldie, GQ, Andy C, Friction, DJ Hype, Grooverider, Fabio, Mampi Swift, Bryan Gee, Jumpin Jack Frost, Spirit, Stevie Hyper D, Marcus Intalex, Randall, Diane Charlemagne and Kemistry. Salute to a certified legend!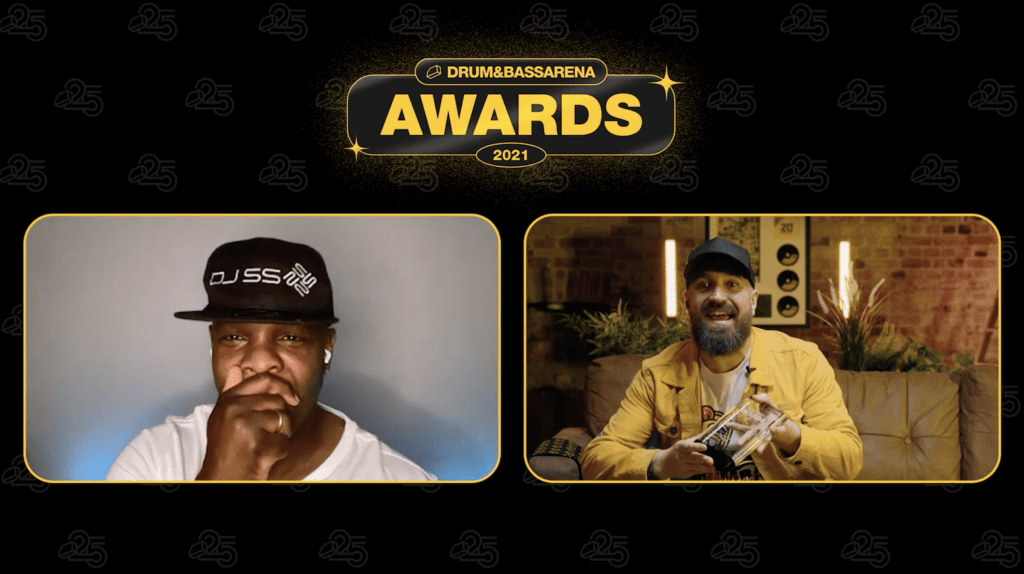 Charlotte Haining was crowned Best Vocalist for the first time, following an incredible year of releases, song-writing successes and a relentless touring schedule.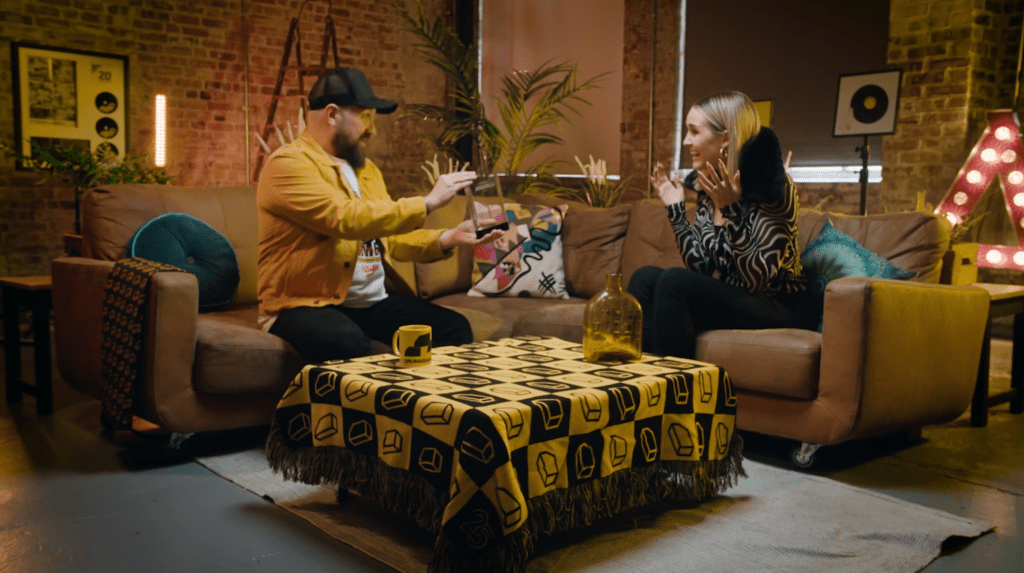 Elsewhere we saw Mefjus & Camo & Krooked win the prestigious Best Track accolade, along with Best Artwork for 'Sientelo' – joining us via Zoom to drop an exclusive announcement that they're launching a new label together in the new year.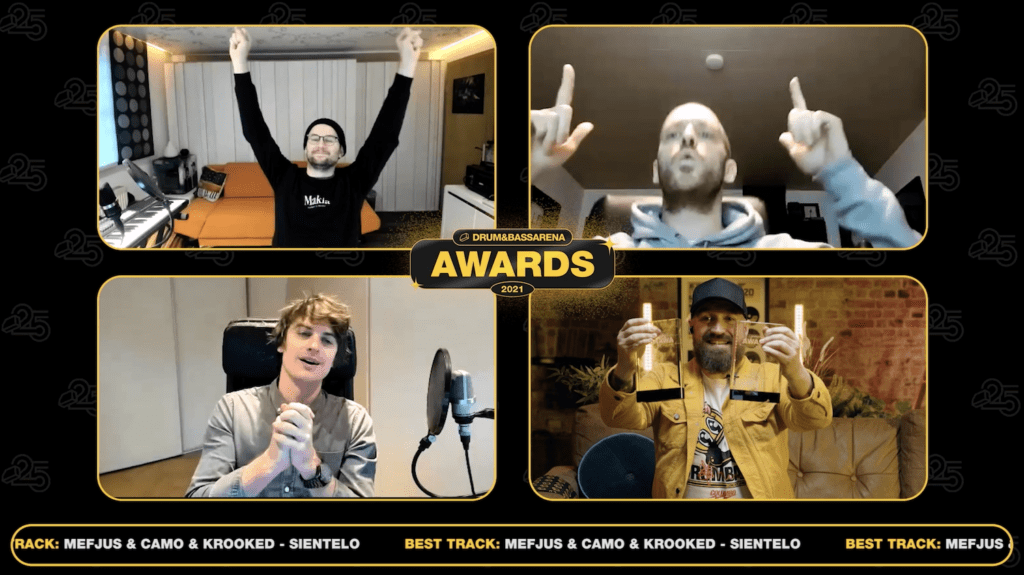 Other highlights included a mind-bending fresh live jungle routine from Spinscott, Inja picking up Best MC for the fourth year running, A.M.C crowned Best DJ, Dimension with Best Remix and loads more.
Read on for the full list of results as we mark the end of another incredible year of music. Big love to our incredible hosts Jenna G & Dave Columbo Jenkins, and a huge congrats to all winners and nominees, as well as everyone keeping this scene thriving with passion and creativity, whether it's in the studio, behind the scenes or on the dance floor. Until next year, BIG UPS!

HALL OF FAME

DJ SS
CRITICS' CHOICE

Mantra
BEST NEWCOMER

Dom Whiting
The Caracal Project
Lee Mvtthews
Mozey
Crossy
BEST DJ

A.M.C
Andy C
Camo & Krooked
Alix Perez
Noisia
BEST PRODUCER

Camo & Krooked
Dimension
Alix Perez
IMANU
Break
BEST NEWCOMER LABEL

Onyx Recordings
Invicta Audio
Overview Music
Sleepless Music
Kingpin Production

BEST ALBUM

Sub Focus – Reworks I
Dimension – Organ
A.M.C – VOID LP
The Upbeats – Not Forever (Album)
Pola & Bryson – Beneath The Surface

BEST VOCALIST

Charlotte Haining
A Little Sound
Katie Koven
Charli Brix
Degs
BEST MC
Inja
Dynamite MC
Eksman
Tonn Piper
Degs
BEST LABEL

Hospital Records
Born on Road
1985 Music
RAM Records
VISION Recordings
BEST TRACK

Mefjus & Camo & Krooked – Sientelo
Alix Perez – Burning Babylon
K Motionz – High Note (ft. Emily Makis)
Turno x Sota – Flappers
Jubei & dBridge – Show Me
BEST REMIX

Sub Focus – Timewarp (Dimension Remix)
Kings Of The Rollers ft. Chimpo – Shella (Halogenix Remix)
Sub Focus – Last Jungle (Camo & Krooked & Mefjus Remix)
K Motionz ft. Duskee – Hack It (Break Remix)
Alix Perez – Trinity (Skeptical Remix)
BEST ARTWORK

D3ma Pro for Mefjus & Camo & Krooked – Sientelo
Big Active for Sub Focus – Reworks I
Josh Fry & Andy Hayes for Pola & Bryson – Beneath the Surface
Dohee Kwon for The Upbeats – Not Forever (Album)
Jack Springbett for A.M.C – VOID LP
BEST CLUB NIGHT

Hospitality
Rumble in the Jungle
Noisia Invites
FABRICLIVE
Liquicity
BEST LIVE STREAM SET

Dom Whiting – Drum & Bass On The Bike
Alix Perez – Keep Hush Live Christchurch: 1985 Music Takeover
A.M.C – Digging Deep – Liquid Classics
Camo & Krooked & Mefjus – Live From A Glacier
Noisia – Noisia Invites 2021 [Final Groningen Edition]