When Serum launched his Souped Up Records imprint it seemed a natural progression for the London-based tastemaker. Flash forward a year later and the label has gone from strength to strength, featuring a combination of established names, up and comers, and of course some serious wall-slappers from the man himself.
With the first year under his belt, and a forthcoming release roster featuring the likes of Current Value, Need For Mirrors, Benny L, Voltage and more, it was high time we caught up with the bossman himself.
To celebrate the milestone he also delivered a weighty label mix, featuring the label's impressive catalogue, as well as some fresh exclusives. Get it in your ears and read on…
Congrats on a huge first year for the label! Got any highlights from the past year you're particularly chuffed about?
Getting the label started was a huge thing for me and involved learning a hell of a lot. Finding the music was actually the easiest bit. I knew what look I wanted but I was lucky that Benny V, my partner in the label, knew the practical side really well and could help me find the right people to help and negotiate with them. He was also really good at kicking me up the arse constantly so I'd make the decisions I needed to!
Essential to have a good arse-kicker involved! 🙂 A lot can happen in a year. Perceptions shift, lessons are learnt, etc. Has the ethos behind the imprint shifted at all since you first launched?
The vision of the label has stayed the same, as has the look, which I think is really important. I'd thought long and hard about the musical direction and how i'd set it apart from other labels, so I've stuck to that and it's working well. What I wanted it to be was a label for dancefloor music that had more of an experimental and fun edge to it. And that's represented in how it looks as well as how it sounds. Drum & bass often takes itself far too seriously, and I wanted to give people a break from that.
It's certainly refreshing! What have been some challenges you didn't expect to run into as a label boss?
I've been lucky in that I've worked with loads of really good labels and seen a lot of how it worked previously, so I knew what to expect even if it was still difficult to do. The thing that really caught me off guard was how quickly things got moving and how much work we have to do to make the most of the opportunities coming our way.
If you could give someone one piece of advice before launching a label, what would it be?
It's really important to have a vision for your label and a unique selling point. If you're not doing something others aren't, or you haven't got the right artists then it'll be an uphill struggle. Even well-established producers and DJs can run unsuccessful labels because it's a completely different set of skills.
The roster across the label has been so diverse, and so on point. How do you decide who you'd like to appear on the label?
I'm lucky to work closely with Voltage and Bladerunner so I knew I could bring them in as well as using my own tracks to get things started. I didn't want to go straight into picking up artists I hadn't worked with before because it was better to make use of my own name to promote the label. I made sure I saved a load of my big tunes for it rather than giving them away and being left with what they didn't take. Once we had a handful of releases and people understood what the label was about then I started getting approached by really good artists.
What's been your persy release and/ or track from the label thus far?
I'll give two: Lumberjack was really special as that was the biggest of my own tracks on there and it sold really well. I caught a moment with that track and held it back so I could play it for the first time at Boomtown. I made the beat and bassline a few years before and never got bored of it so I knew that once I had an intro it would be one of my biggest tunes.
Bou's Habibi EP would be the other one as it was the first time I'd worked with an up and coming artist on a release but I got something really unique that I doubt another label would get from him. I did a collaboration with Bou and also took a solo track and one he'd done with Stompz. I'd also been speaking to Current Value about a release and knew he'd worked on a track with Bou so I was lucky enough to sign that. I worked closely with Bou on the artwork and got really good radio, club and chart support with the release so it was a job well done.
The mix is absolute FIRE. Must've been a vibe to showcase all the releases on the label. When you hear all the tunes laid out like this it makes for a proper PHWOAR moment. Do you still get those?
I think anyone listening to the mix will understand exactly what the label is about and it also shows some of the new artists who will be releasing over the next 12 months. We've got a mix of established artists, up and comers and also people stepping out of their usual style to appear on the label which is amazing.
So what's next on the Souped Up agenda for 2018 and beyond?
The next three releases will be from Current Value, Dutta and Bou & Subkillaz. All of which are represented in the mix. After that I've got tracks from Voltage, Need for Mirrors, Levela, MC Bassman, Benny L, Benny V and loads more in the pipeline. As I write this we're in the middle of our second run of merchandise which is selling out fast. There'll definitely be more of that.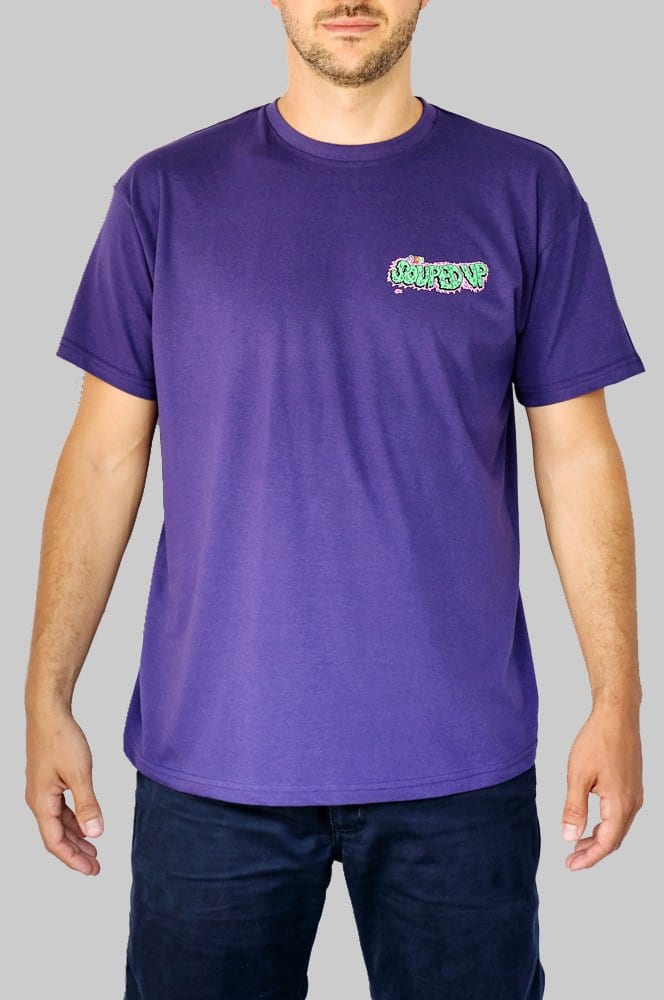 Any final shout outs?
I'd like to shout out Benny V as he's been really helpful behind the scenes making it all happen. He might be from Essex and play at cheese clubs, but he's OK really.
Dan Wolfmask and Russell Taysom have both done excellent artwork for us so thank you guys! Finally, thanks to all the artists who've already released or who have music signed, because without you there wouldn't be much point!
Serum:
Facebook
SoundCloud
Souped Up Records:
Facebook
SoundCloud
Store
Link with Drum&BassArena on:
Spotify
Join the family
YouTube
SoundCloud
Mixcloud
Facebook
Twitter
Subscribe to our weekly newsletter