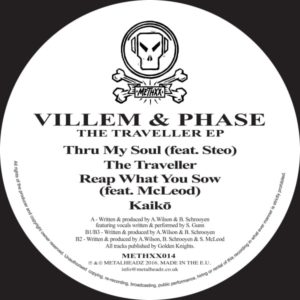 Villem & Phase are certainly no strangers to epic collaborations. Between them they've clocked more this year than you could shake a stick at, and now they've joined forces on the immense Traveller EP on MethXX.
Flexing their creative muscles, the pair have exhibited their ability to switch between styles flawlessly, making the EP a pure sonic delight. We caught up with guys to chat about the EP and more, and scored the full-length premiere of Thru My Soul ft. Steo on the way. Dive in…
Yes fellas! Thanks for joining us – where have we caught you both today?
Phase: I'm relaxing in the studio! Just finished up a remix after a day of work for college…
Villem: Just pulled up my floor and calling insurance companies, we have a water leak under our house!
Ha! Quite contrasting activities there guys… Good luck with the leak Villem! Now, straight to business – The Traveller EP is dropping on MethXX this week and is a truly impressive balance of vibes. How did the idea of joining forces come about?
Phase: Well Andrew (Villem) had a gig over here in Belgium around November 2014, and he and his brother Ben (Fields) were cooking up some beats in M-zine & Scepticz' studio. Being long time friends, M-zine & Scepticz asked me to come over as well to have a drink and some laughs, and then I got introduced to Andrew and I showed him some music. Not long after that we started sending each other some beats to work on!
Nice! Villem you've had releases on Metalheadz before, but Phase this is your first outing on MethXX – how did the EP idea come about for the label?

Phase: The first sketch for a tune I sent to Andrew was an early version of The Traveller. We finished it in a few days and Andrew thought it would be a good idea to send it to Ant TC1 to see what he thinks. We got confirmation within a few days, and when Ant asked us to do an entire EP for the label we were stoked!
I bet! Was the EP written with MethXX in mind or has it been a long time coming anyway?

As Goldie and Ant wanted us to do an EP for Headz, everything we made together was with that project in mind. A few tracks didn't feel like the right fit for Metalheadz in the end and we were able to relocate those to different labels.
Were you able to get in the studio together to work on the EP?

We only made one track together in the studio and it's not one of the EP tracks! Everything you hear on this EP was made in two separate studios. One in Belgium and one in the UK.
Fair play! You both have a lot of experience in the collab department – how did you find you gelled in the studio? What is it about each other that makes you work so well together do you think?

Phase: I think Andrew is a brilliant engineer! The tracks wouldn't sound this clean and crisp without him. He was at the controls for the final mixdowns and arrangements. We're both really open for feedback and each other's thoughts on everything, which gave a good blend of both of our styles in the end.
Villem: We both like it musical yet heavy, and Bram has a great ear for melody and whenever he sent something back it just slotted into the track with no fuss. We tried not to get to hung up on a track and just keep pushing forward on the ideas.
I'm a real sucker for releases that are able to strike a perfect balance between the lighter vibes and deeper material.. I feel it really shows an artist's versatility, and I feel that's exactly what you guys have done with The Traveller EP. Was this intentional? Or is there simply a part of you both that loves both the lighter and darker vibes?

This was sort of intentional. We both like the lighter and darker vibes in the D&B spectrum, and Metalheadz is a perfect label to showcase this on. We wanted the EP to have a very straightforward A-side that has lots of radio and DJ potential, but we also wanted to show our deeper, more experimental side. Kaikō was inspired by techno progressions and Reap What You Sow dips more into the jungle side of things.
Thru My Soul is such a wicked roller and a personal fave on the EP. Steo's dulcet tones really are heavenly! How did the link with him come about?
Once we finished the instrumental we basically thought the same thing: Steo needs to be on this! We're a huge fan of his work and he's a legendary vocalist in the D&B scene.
That he is! Was there a backstory to this tune?
Well the track took over a year to make. The instrumental was made in a short period of time, but took Steo a while to finish the vocal (think he'd just had his second child, was at college as well as working, so we'll give him some slack!), but once it came back we started to get excited!
Don't blame you 🙂 Do you have your own favourite tracks off the EP?

Phase: It changes quite often for me personally. I guess that's a sign of a balanced EP? I think I'll have to go for Thru My Soul though, as the feedback and support on that track has been immense, which I'm extremely grateful for.
Villem: Kaikō is my personal fave!
The title track is naughty little number… What inspired the title and concept for the EP?
Phase: It was the first track we made for the EP. It has a nice ring to it as well, and I think that's why we chose it as the title for the EP. The title was inspired by the quote that's in there right before the drop: "Going from town to town, city to city, country to country." Not much of a deeper meaning, other than the fact that I love travelling and getting the opportunity to play my music in different countries!
Villem: Bram came with the initial sketch and I loved the chords and we decided to take it further by bringing some heavy distortion to the bass to give that juxtaposition of vibes, from smooth to nasty.
Love it! You're both quite the busy little bees of late!! Villem you've got the Vanguard Project as well as your work with Mcleod and a cheeky recent collab with Hydro, and Phase you've had a lot of collabs and have some wicked releases in the works yourself across Demand Records and more. Is it difficult switching off from the various other projects and approaching a new idea with a clean slate?
Phase: 2016 really was a year of collaborations for me, as I only made a few solo tracks (a remix on Integral and a 12" on Warm Communications). Collaborating with many different people taught me so much in terms of music production which I'm now using in more solo projects. I'm really glad I got to work with such talented people (Villem, Nymfo, Keeno, Whiney, Satl…). Most of the time I only work on a maximum of two tracks at one given time, because more tracks will get me stressed out and I won't be able to get anything done!
Villem: Never find it hard to switch between sessions, I love to collab, I get way more music done. Writing music as a solo artist can be a long and lonely road, whilst it can be more satisfying and personal, the flipside is crippling self doubt which leads to stagnation and never finishing music. It's an ongoing struggle, one which I'm working on.
As 2016 comes to an end it's time to reflect… What were your highlights of the year?
Phase: Like every year, Sun And Bass is one of the big highlights. Having Andrew over for the first time at the festival was great fun as well, especially when Lenzman played Thru My Soul, rewound it and everyone went nuts! I think 2016 overall was one of my most memorable years in my 21-year old existence. I reached quite a few personal and musical goals which I thought would never become reality this year!
Villem: Sun And Bass was epic! Highlights are seeing my son growing up in his first year, his never-ending enthusiasm is a joy to watch!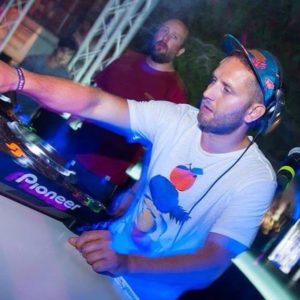 Favourite releases of the year?
Phase: Dom & Roland's album, LSB's album & everything 1985 Music put out.
Villem: Honestly couldn't tell you, I tend to keep out of the loop on purpose!
What's coming up next for both of you?
Phase: We have another Villem & Phase EP coming up quite soon on Horizons Music. Nymfo and I have a 4-track collab EP on Dispatch Recordings in 2017 as well, featuring MC Sense, and I have a solo track coming up on Hospital Recordings early next year too. A solo remix will be released on Intrigue Music in a few months, and I'm working on a few other projects, like a follow-up for my Warm Communications 12" and a few other bits and bobs! 🙂
Villem: Lots of The Vanguard Project music (2 more EPs), lots of McLeod collabs, the usual really!
Looking forward to hearing it all! Final shouts?
Phase: Shouts to my girlfriend Stéphanie who has been the best travelling partner I could've ever hoped for, and shouts to the entire Belgian scene, with special shouts to Corrupted & Qonflict!
Villem: Shouts to all the ravers and promoters for keeping the scene alive x
The Traveller EP is out on MethXX this Friday – get it here
Villem:
Facebook
SoundCloud
Phase:
Facebook
SoundCloud
Metalheadz:
Facebook
SoundCloud
Link with Drum&BassArena on:
YouTube
Mixcloud
Spotify
Facebook
Twitter
Subscribe to our weekly newsletter