Jamie links up with Kid B Art, also known as B-Trix Kiddo, for a lowdown on her creative artwork.
Taking inspiration from not only classic jungle records, Nikki also chucks in some memories of early hardcore and uk garage. It's one massive bundle of memorable lyrical content, presented in glorious typefaces and experimental vibes. You have no doubt seem the 'Super Sharp Shooter' montage floating about your Instagram feed so let's dig a bit deeper..
Break down how you first started experimenting with well known lyrics from the underground music scene in your artwork. Was what we see now how you intended the project to start?
"I actually came up with the idea when i was looking around an art gallery in Brighton. I was chatting to the guy about a RYCA piece I have with "cash rules everything around me" on it and he was telling me about another typography artist who does commissions and he asked me "out of curiosity what would you ask for?"
I thought about it and thought what do I love? What means something to me? What would make me walk into a room or gallery and go "THAT'S SICK" and i thought of "I was in this long dark tunnel" from Origin Unknown's 'Valley of the Shadows'.
When I left the shop i couldn't stop thinking about the concept and realised that there must be thousands of drum and bass fans just like me who would love some wicked inspired art to put on their walls, and I basically thought why not – I'll have a go at making some!"
Any images of early work?
"Not really as this was a brand new thing for me so after I came up with the idea I got straight to it designing the first collection. There are new pieces in the pipeline though so watch this space!"
The influences are quite broad, from Nookie's 'Gonna Be Alright' which was released way back in 1993 to Sweet Female Attitude's popular garage track 'Flowers' and DJ Zinc's celebrated classic remix of 'Super Sharp Shooter'. Tell us about the selection process for these, how did you decide on each project?
"I decided to make my first two collections all about nostalgia, taking people back to the 90's and those memories and feelings that these lyrics evoke in them. Obviously there are now loads of drum and bass fans who wasn't there at the time or when these songs were released but the great thing is that anyone who loves music, whatever age they are, will all know, love and understand the amazing heritage of the scene.
Did you see that fantastic clip of DJ Hype and Hazard from Boomtown last year with god know how many thousands of fans of all ages singing along to 'Original Nuttah'? These songs will always be a part of the scene and will never go away so I felt this era was a great starting point that everyone could connect with.
I decided to call the first collection 'In The Beginning' (inspired by the sample in DJ Hype's 'Closer to God') and it's a celebration of the birth of drum and bass culture. I was a teenager in the late 90's and discovered drum and bass and the rave scene when I was 16 or 17 and was instantly hooked!
There are so many amazing tunes from this time that all mean so much to me and have such great memories attached to them so it was really hard to settle on the first 4 for this collection. I wanted to go with lyrics people would definitely recognise and connect with.
For the second collection which I called the 'Boom Selection' collection (named after the Genius Cru track) which was a celebration of early UK garage. I thought it would be good to mix it up a bit and hoped the garage industry would be as excited about it as the drum and bass fans had been, however, they don't seem to be so far ha ha! But then who loves their genre more than drum and bass heads? Nobody!"
It's a surprise no early happy hardcore tunes have made the cut yet, especially considering the heavy use of female vocal samples in this genre back in the early to mid 90's – anything forthcoming?
"Nothing planned at the moment but i'll never say never. In the 90's I was always more into breakbeats but my boyfriend at the time was a massive happy hardcore fan. We'd go raving together and I would be in the drum and bass room and he'd be in the hardcore room but we'd always find each other during the night for a dance and enjoy the music together. I remember lyrics mainly being pretty cheesy so would have to have a good dig for something that felt was right for me.
Thinking about it now I could definitely see myself doing 'If your names not down you're not coming in" from Kicks Like a Mule's 'The Bouncer'. I know it's hardcore rather than happy hardcore but that could be a fun one to do for sure!"
With more and more independent artists jumping on the merchandise bandwagon, how do you get it so right with your designs? What's the single most important factor for creating that exclusive style? I guess in some respects you're dropping your own art dubplates!
"To be honest I had no idea when I started out on this what the reaction would be. I just came up with designs that I knew i would love to see on my own wall and hoped that other people would feel the same. I guess they have a simplicity to them focusing on the lyrics and using colour to make them pop. I'm a fan of street art so definitely an influence in the style too.
After a while i started dropping remixes of the prints by bringing them out in different colours. All of the prints are limited editions with only 45 of each one so I need to keep adding new colourways and sizes to keep the designs alive. I just wanted to make high quality art prints that people could invest in, frame and treasure. I keep them exclusive and hopefully like a treasured dubplate this will make each piece feel special and valuable. They are all signed and numbered.
I've also recently released a couple of the images on t-shirts which is another way for people to enjoy the designs."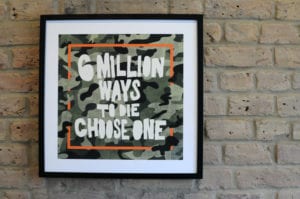 Have any of the artists seen your interpretation of their tunes?
"Yeah I've managed to get hold of a few of the artists. Zinc in particular was really stoked and supportive. I gave him framed Super Sharp Shooter and 6 Million Ways to Die prints and he was really lovely and shared a photo and a big-up with his fans online which was amazing as his fans are exactly the people I made them for."
It's quite obvious you're a fan of jungle, drum and bass plus a bit of uk garage but how did your individual journey start in the underground dance music scene? What were your key influences as a fan growing up?
"I had a great crew of mates who were always up for it and we were out at raves and clubs as often as possible; Helter Skelter, One Nation, Movement, Labyrinth etc. I loved the vibe and the energy, the people you met, the massive basslines the MCs getting everyone hyped and that moment when you saw your favourite DJ walking through the club with his box of records up next. All of it really it was such a rush and the music was just amazing!
I guess I've always been really drawn to songs with lyrical content, those tunes always stood out for me so It's really fun to be celebrating some of those early lyrics again my own way."
Do you take influence from any other artists? Inside or outside of the music industry.
"I take influences from all over the place! Firstly from the artists, producers and DJs who made me fall in love with the tunes and lyrics in the first place. Then visually from all around me; online, out on the street, other artists and graphic designers i'm always looking and listening out for inspiration, colours, fonts, lyrics and imagery."
You're also a DJ! Quite a selection of talent. Do you wish to progress both passions or is one more of a hobby than the other?
"Well, the art stuff really started out as a bit of a hobby and a new challenge, but I've enjoyed it so much and the reaction has been really great so that's inspired me to keep going with it and keep developing it. I live out in the French Alps and work full time as a DJ in the winter months which i love so I'm definitely not stepping away from the decks any time soon… or ever.
I'll probably still be a DJ when I'm a granny!"
As a DJ, can you name your top 3 tracks of all time for us? Any memories attached to them?
"Wow that is a hard one with over 20 years of tunes to choose from and I've got really mixed taste too and enjoy blending different sub genres and enjoying the whole spectrum of the music. I couldn't pick a top 3 but some of my favourites would be:
SL2 'On a Ragga Tip' has got to be in there. Serial Killaz have a wicked remix called 'Walk and Skank' that I play loads when I am DJing and always gets the crowd hyped! 'Bandwagon Blues' By Twisted Individual has got to go in too, such a sick tune and massive bouncy drop. Finally 'Champion Sound' – the Hardcore Will never Die remix By Q Project."
And as far as live sets go, what would you say was up at the top?
"That's also really hard but Andy C is always gonna top that list for me. If we are talking it way back though I've got to include Micky Finn's set from Helter Skelter Odyssey 1996. I had that tape in my car and listen to its thousands of times! I recently rediscovered it and it took me right back. It's still an amazing set to this day.
Do you have a road map as such in terms of where you want your creative works to go? What are you main aspirations as an artist? Have you met any of your goals already?
"I guess i'm just motivated to keep creating new pieces that people enjoy and connect with."
Would a physical location be a future option?
"You mean like a shop? Probably not with me in it as I live up a mountain in France but I'm really happy with my online shop which is easy to manage wherever I am."
Any shouts or big ups?
"Definitely all the artists who made the music I've sampled by so far! DJ Zinc, Shy FX, Nookie, Scott Garcia, MJ Cole, and Sweet Female Attitude. This is only the beginning though so there will be a lot more names to add to this list. You can expect a feature from Congo Natty in the very near future!
And of course big up to Drum&BassArena for the support and for all the amazing content over the years."
Find out more: