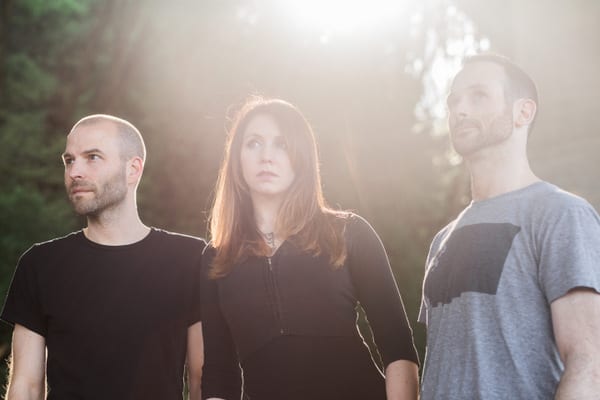 Quadrant, Iris and Kid Hops are a trio about which there is a certain gravity, a certain 'oneness' when they convene as you just won't encounter their chemistry anywhere else even remotely. It's like waiting for a rare eclipse or planetary alignment, and now their celestial event is nigh: their enigmatically-titled 206 is soon due on Commercial Suicide.
As you'll read, killer whales, noir bars, work zombies and phenomenally raspy cymbals all figure strongly.
Hey how's it going? Heading into autumn now, things are nice here, how about for you?
Quadrant: Going great here! Iris and I just got back from three weeks in Europe where we played some amazing shows at Sun and Bass and for Vandal at Le Bikini. SunAndBass in particular was a fantastic experience: a great combination of hanging out with friends, drinking wine and just listening to some really good music.
We spent the rest of the trip hanging out with friends we don't get to see very often. We're very relaxed now.
Tell us when 206 started to take shape and form?
Quadrant: We'd done the 'Spinout'/'Depth Sounder' single for Klute in late 2013… I think everyone was really happy with how that release turned out, and we get along really well with Tom on a personal level.
I was chatting with him in early 2014 and he floated the idea of us doing a full length album on Commercial Suicide. Naturally when Klute asks you if you'd like to do an album the immediate correct answer is 'YES.'
The subsequent answer is 'YES F*CKING ABSOLUTELY WE'LL GET RIGHT ON THAT.'
Kid Hops: We three have an enormous amount of respect for Klute, as an artist and as an A&R scout with Commercial Suicide. He has an impressive track record of finding exciting, fresh talent, and coaxing the best out of them.
We sent him a tune; he responded well & asked for a b-side. We sent him some more tunes; he responded well and asked us to do an album for him. And, we responded appropriately, as Leigh outlined above.
206 was a joy to work on.
Leigh and Karen and I have a great rapport in the studio, and enjoy that creative time together. The album took shape very naturally over the course of several studio sessions, and it was an absolute blast to work on.
It feels very warm, very full-blooded and like a lot of people were involved, is that the case?
Quadrant: The three of us have been steadily working in the studio since 2012 and we had a lot of momentum going, so it was decided early on that it would be a collaborative project. I feel like it's easier to keep things moving along when there are other people to add insight and bounce ideas off of in the studio.
Besides, hanging out and making music with your friends is just plain fun.
Given the scope of an LP, we also wanted to make sure that we could spread our wings and incorporate more vocals and instrumentation, so we made it a point to bring in vocalists whose work we really love.
So what's the main theme on 206 would you say?
The overarching theme of the album is an homage to Seattle, our hometown, both as a place and as a music scene that's nurtured us over the years.
Almost everyone who worked on it is either from here or has lived here – with the notable exceptions of Klute and Collette Warren who we'll forgive since the climate in the UK is so similar – and we made a concerted effort to incorporate field recordings from around the city, both to give the music a sense of place and also to ground it in something real.
These days you can make an entire record without ever leaving your studio and I think breaking out of that routine injects some much-needed vitality into the final product.
'Occidental' caught me, can you take us through?
Kid Hops: 'Occidental' is a sonic snapshot of a sensation. It's an ode to a very special experience, in a special corner of our city, Seattle. Longstanding D&B party, OnSet, used to take place Saturdays in a basement venue in a historic neighborhood of the city.
It was the perfect venue for D&B: low ceilings, exposed brick walls, nearly no light, a booooming soundsystem.
It was dark, intimate, and vibey… always. You'd emerge from this club, late at night, head not quite right after being concussed for four hours, into the misty air of Occidental Avenue, a brick paved street, often slick with rain, with a scent of salt in the air from the harbour.
Ears ringing, you'd walk to your car, in a corner of the city that seemed empty and forgotten by time.
'Occidental' is our ode to this experience.
And you Quadrant? How do you approach the tune?
Quadrant: Yeah basically I never got to be in a successful shoegaze/space rock band when I was in high school, so now I'm trying to make up for it.
There are obviously a lot of synths in that one but the most prominent elements are actually recorded guitar and my vocals through like three layers of reverb and delay and autotune.
'Interlude' tracks are kind of a weird/interesting phenomenon in dance music albums because on one hand, the freedom to work at different tempos can be intoxicating, but on the other hand you don't want to go overboard and only leave three tracks for the DJ crates.
Moreover, we really wanted to avoid the cliché of rolling out the same Techstep vibe at 110 bpm.
So instead, it's Interpol meets M83 shoehorned in between these towering dance tracks, kinda like that house from Up.
I'd love to do a whole album of that kind of stuff. Maybe I'll put a D&B track halfway through just to fuck with people. Isn't that what My Bloody Valentine were trying to do before they fell off the map in the '90s?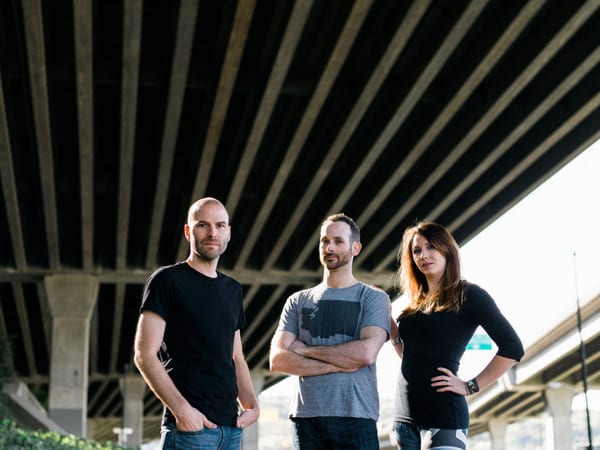 Why a track called 'Asthma'?! It really made me smile. Is it the change in seasons? Slamming track!
Quadrant: 'Asthma' is an interesting one because I think it's the first completely solo track I've done since Spinout. I started it after a Wednesday night session with Karen and Kyle and it kind of veered into more aggressive territory and took on a mind of its own.
Sometimes tunes practically write themselves, and when that happens you just have to roll with it and accept that you're gonna be a zombie at work the next day.
I called it 'Asthma' because that raspy ride cymbal that comes in around 1:51 makes me feel like I can't breathe.
Some sounds just evoke a vivid physical sensation like that.
Also this is super-nerdy of me, but I have to call attention to the hat loop at 2:16 because every time I hear it I do a little victory dance in my chair – that's the kind of sound I've been trying to bite from Kemal for the last DECADE and I actually nailed it for 16 bars. High fives all around.
And it then steps into 'Wirecutter', wow. It's like being in a great club and you don't know which room to go to as all are firing… tunes are ace.
Quadrant: Yeah I'm glad you asked about that because it gives us a chance to give shouts to our good friend Cease who was instrumental in making that tune. You know that friend who you only see occasionally but every time you see him you're like 'damn, why don't we hang out more?'
Cease is like that, but for collabs – also for hanging out, come to think of it. Every time he comes over some insane vibe gets laid down, and 'Wirecutter' is nothing if not a vibes tune: it harks back to that Sawtooth-era Jonny L sound where you could be captivated for seven minutes with just a break, a bubbly bassline, and some tambourines.
We miss that kind of music, so it's our responsibility to make more of it.
I actually almost ruined 'Wirecutter': I did a few versions with different mixdowns and a few that had some additional stabs and hoovers. Klute put an end to that nonsense though and made us realize that it was better just stripped back to the bare essentials. Don't gild the lily.
'Pleiades' is stunning… love this tune and also that you guys totally embrace the breadth of electronic music: that you go in at such artistic depth. I mean is this enough or would you do more of this style and tempo if you could?
Quadrant: Oh absolutely. It's 170 as well so it's good to close a set of rollers with or make sure everyone takes a smoke break in the middle of a night of rollers.
But you touch on something important which is that musicality isn't just wallpaper.
If you care about what you're doing can stay within the same tempo and even rhythm framework and still evoke a drastically different visceral response from one song to the next, but it isn't just a matter of swapping your synth stabs out for rhodes or string samples. You have to approach it from the bottom up and build it into the bones of your music.
Doing that is risky because it's not commercially viable but for what it's worth 'Pleiades' was extremely enjoyable to make and I can't speak for my colleagues but it's one of my favorite to listen to. I'd love to explore that sound more.
Iris: I personally love a lot of music in this style & tempo, we unfortunately don't get to play it or make it as often as we like. It was great to be able to do something along these lines for the album.
I definitely think there will be more tunes like this in the future, maybe even some of them will be at a tempo other than 170?
Kid Hops: I enjoyed every aspect of making 206, and agree that 'Pleiades' was super fun to write. Any time you take a moment to stretch out creatively, it offers an artistic reset that resonates through everything you're working on.
Reise voiced the vocal parts on 'Pleiades', and it's always a joy working with her!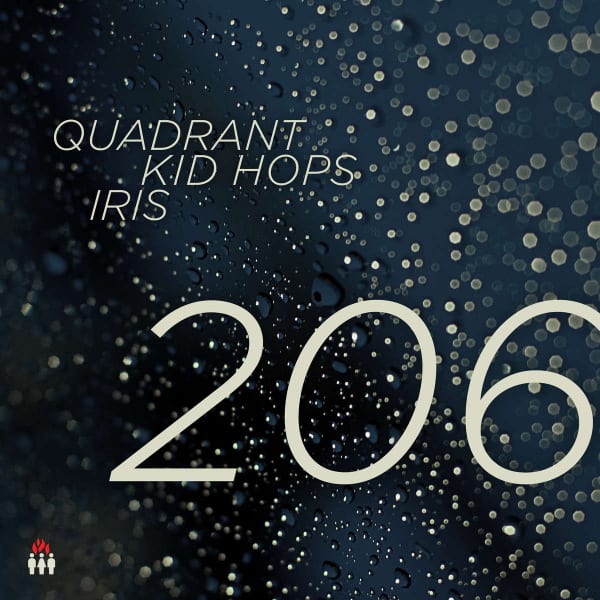 So back to Commercial Suicide: how did you and Klute actually meet and do you get on well on the rock front?
QUADRANT: I think Karen and I first met him when we played a show together in Portland in… 2011 maybe? We kept in touch off and on and it's the story you've heard a thousand times of a trans-continental friendship blossoming one AIM conversation at a time.
We don't actually talk about rock music together nearly enough but I think it's kind of permeated the way both of us relate to music in general. Tom is probably the most punk rock person I know, and I'd say that even if he wasn't literally in a punk band.
Iris: I actually think we'd probably met him briefly before that show, but we definitely handed him a CD of tunes at the Portland gig. I'm not sure he ever listened to that CD come to think of it…
It was later on when he'd played 'Depth Sounder' – which was unsigned at the time – on his SunandBass podcast that we got more connected. We were chatting with him following the podcast and mentioned the tune was unsigned still and would he maybe like it for Commercial Suicide?
Kid Hops: I have known Klute for over a decade. We originally met when I was booked to support him on a club bill in Seattle. Over the years we've played loads of shows together, and we have always stayed in touch as best as we can.
Between music of all shapes and styles, and art, we've always had tons to talk about!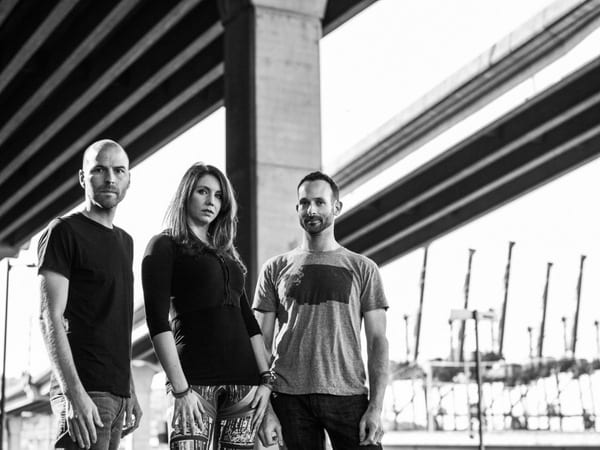 I always love your big atmospheres behind the beats. And who's the fab vocalist on 'Black Opal'?
Quadrant: 'Black Opal' was voiced by our very talented friend Kristen Gayle aka Kayle. She used to come out to parties years ago and sing live over sets here in Seattle. Fortunately she kept in touch with some mutual friends, and after a chance meeting at a bar in Tacoma we made plans to work together.
She came by and showed us what she had written, and the first time we heard the breakdown vocals ('you better be ready…').
I think everyone in a five mile radius got goosebumps.
I've heard it 500 times and it still kills me.
The instrumental had actually been kicking around our studio since 2013 and the name just magically got assigned to the project. Sometimes things like that just pop into your head, like 'of COURSE this tune is called 'Black Opal', how could I call it anything else?'
It makes me think of a smoky club in a noir film, so maybe we should've called it 'Whiskey, Neat.'
Doesn't have the same ring though.
Kid Hops: I am so thrilled you're feeling 'Black Opal!' We love that tune, we LOVE Kayle, and it was an absolute joy working with her on 'Black Opal'. Kayle is wildly-talented, and our creative collaboration with her was a long time coming.
'Black Opal' is a special moment on the album.
And the tunes roll on: 'Definition'? 'Orca'? I could go on and on…
'Definition' actually has a bit of a history behind it: it was originally conceived of and started back in 2005 when Quadrant was still a multi-person outfit.
Those vocals throughout the tune were recorded around then back in Philly and they were performed by Daniel Pollard, one of the founding members of Quadrant who's since gone on to great things in the Trap world… he's the mastermind behind Heroes X Villains.
It was an ambitious tune but quite frankly we didn't have the chops to pull it off at the time. It ran out of steam and never got finished.
Iris: It was during our trip to Outlook last year that Leigh filled me in on the background to 'Definition' while mentioning that he could probably 'smash the hell' out of the tune today. I thought it sounded like a great idea for a tune, it was one of the first things we started on after we got back from our trip.
After several studio sessions, ripping out the drums as well as the bassline multiple times we came very close to not finishing the tune all together. It had one of the hardest mixdowns Leigh had ever encountered, he mentioned multiple times we probably weren't going to finish the tune. Unfortunately for him I love that tune and basically pestered him until he finally got the mixdown sorted.
Let it be known that if ever again Leigh decides to brag to me about how he would 'smash the hell' out of a tune again that I'm going to make sure he follows through on that promise.
Kid Hops: 'Orca' is a unique composition, that features extensive amounts of field recordings from around our city. Listen carefully and you'll have loads of surprises when you visit Seattle next.
Speaking of… when are you going to come visit?! You're welcome anytime!
Iris: Oh yeah, 'Orca' was a fun one.
It uses a few unique samples to Seattle, one being the beep from Seattle's light rail – our passes are called Orca Cards – and another being some well hidden samples from Killer Whale pods local to the Pacific Northwest.