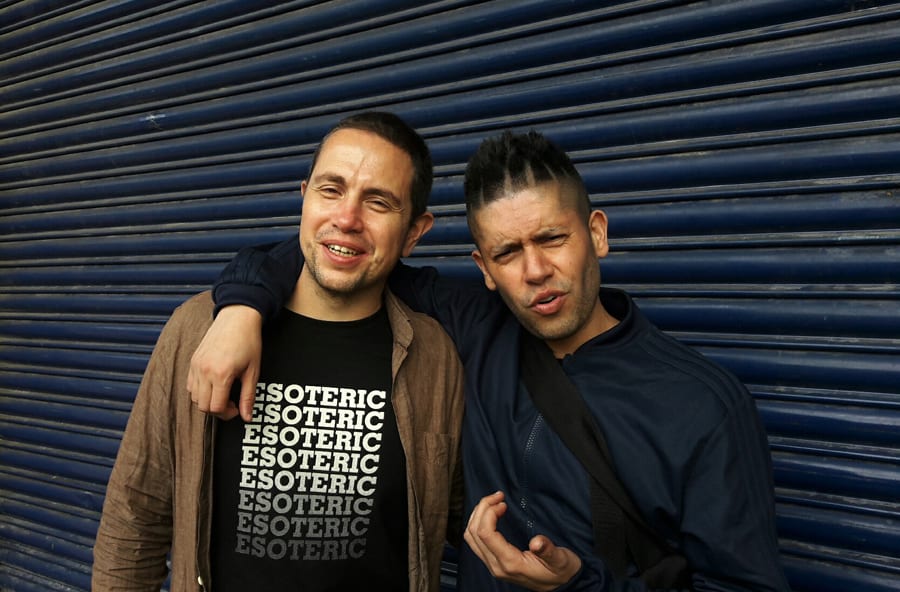 It took them 10 years to re-appear on Goldie's mothership, but it seems 2015's Blade 9 / Break North has ignited a whole new slew of b-boy business for Nucleus & Paradox. Last month saw the release of their Wrath EP, a dispatch dripping in detail. Two 12s and four tunes deep, it flexed around their 2005 Headz debut in 2005 – Twelve Bits / Aragon.
Musically the Wrath EP comprises two new originals (Wrath and What I Feel), their own update on Aragon and a superbly re-sprung remix of Twelve Bits by Mako. But that's only half the package: in-keeping with both Nucleus & Paradox's staunch stance on vinyl and Metalheadz iconic design and presentation, the full package includes the commissioned artwork of one of the UK's most respected painters Vodker that's blazoned across both outer and inner sleeves and t-shirts and limited edition prints.
Even by Metalheadz and Paradox & Nucleus's standards, this is a special release with tangible levels of soul coded deep into every aspect. Including Mako's b-boy power move remix…
Rumour has it there might be even less of a wait for them to work with Metalheadz again. Certainly less of a wait than there will be for Paradox's next artist album… Which is one of the many things we discuss with the Englishman-in-Lithuania right here. Read on to find out how he never samples his own breaks once he's released them, why he's never collaborated over the internet and how he may never release an album again.
Back to 2005…
We've been linked since the very beginning. Reinforced created Nucleus & Paradox and Metalheadz is the son of Reinforced. When we did the release in 2005 it felt natural and we planned on doing more but we're all busy doing our own thing, releasing on our own label and other people's labels so time's got in the way a bit. When we sit down and do something we think Goldie might like we always send it to him and it's nice to come back. Plus we've had a real privilege with the release and what we can do. We're quite militant about things – it must be on vinyl, it must look absolutely right, the quality of the product has to be perfect.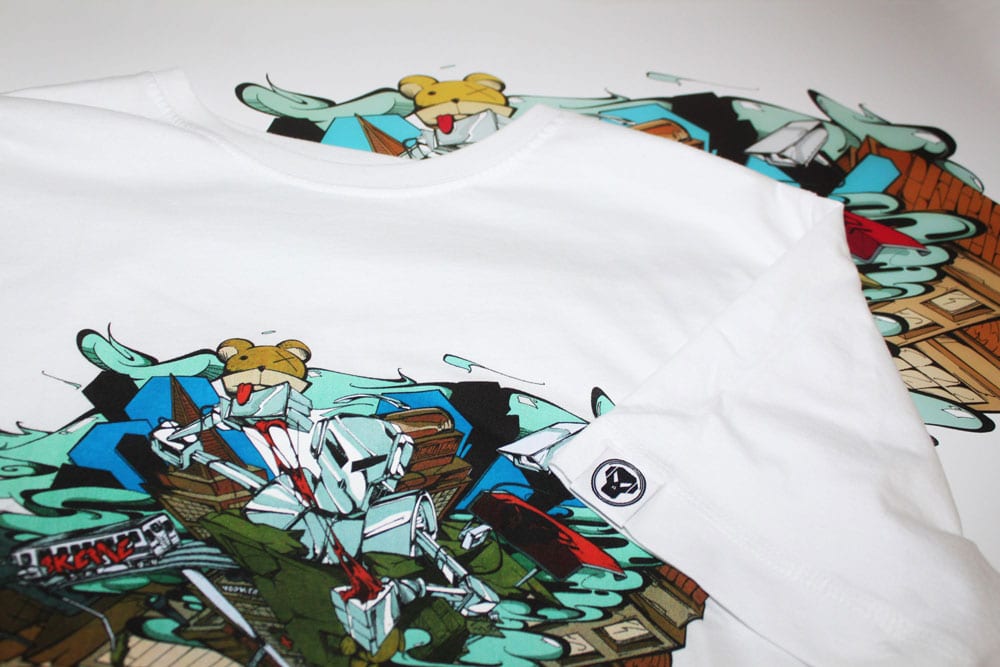 Did you request Vodker?
He's one of our favourite graffiti artists and Ant (TC1) told us Goldie knew Vodker. We were like 'of course he does!' So Ant said he'd ask Goldie to have a word and would see. Goldie twisted his arm and said he'd do it. We were bowled over. He's really into what we do and wants to do more with us. He understands the b-boy nature of the breaks and how we work and there's a creative dialogue there. Plus it looks amazing – on two twelves with the art on the inner sleeve, too. They're detailed records – something you hold and can spent time looking at the detail without even playing it.
Let's go back to the b-boy connection. The links between drum & bass and b-boy culture run deep don't they?
Definitely. And sometimes I think people forget that. I've got no gripes with most drum & bass today. There's some amazing stuff out there. But there are parts of the genre where b-boy breaks are missing. That's why we had this idea to do this package – to put a little b-boy culture back into the drum & bass tempos. It's about putting that b-boy funk element back in. That's also why I do the Wax Breaks album series. They're aimed at break-djs who spin the breaks back to back. I actually got hit up by DJ Supreme from legendary UK hip-hop crew Hijack. That's one of my idols! They were signed to Ice T's label. I thought 'Jesus, I must be doing something right. He's even heard of me!' He asked if it was okay to sample them and I said 'of course'. I felt like a fanboy.
How long do the Wax Breaks collections take to dig, compile and produce?
I see my job as a professional drum programmer. I've always put drum tracks on my 12s and call them 'sample me'. So the Wax Breaks albums became a more professional way of branding them. What's fun is how they're strictly-vinyl. At first my distributor was warning me I'll lose sales because people want a wav file to sample but I wanted them to be like the samples we took off vinyl years ago. That's when the name came about – you have to buy the wax for the breaks.
I know I'm cutting my nose off a bit but if people really want it they'll buy it. And they're for the b-boy crews who still spin that way. They're for the whole break culture… And when you put them on at 45? They're perfect for sampling for drum & bass. Only the other day Nucleus was round and put one on. I had my back to the deck and it started rolling out and I was like 'Jesus. What's that?!' I wanted to sample it but… But it turned out it was a Wax Break, but I've made a rule – I'll never sample them once I've put them out for other people to use. So yeah, going right back to the original question – they take me around three months. Which is a long time to sit in my pants in front the computer dribbling, 12 hours a day… But nowhere near as long as it take an artist album.
So you'll never use your own breaks once you've released it?
Nope. And what I've found now is that as I'm working on tracks and I'm programming drums – if they don't quite fit then I can put them in a folder for potential Wax Breaks for others to try.
How about an album from yourself… Or maybe one with Nucleus?
I was talking to Calibre about this at Sun And Bass. I've done nine vinyl artist albums and it feels weird not doing 10. Wax Breaks are vinyl albums but not artist albums, if you know what I mean. So I know I need to do a 10th but when I make that decision I'll be committing to a whole year of concentrating on the album and not doing 12s. So I wonder if I'll ever do the 10th album? I've got the name for it in my head already but I'm scared to go into hiding for a year.
A year is a long time. Is there the fear that your 10th album may be your last? If you want to end on a neat landmark number then 15 or 20 albums would be the next milestone, I guess?
This is it. I keep thinking 'will I leave it at 10 or will I get the bug again?' I think I'd leave it at 10. But yeah, I like the thought of being able to do one. Maybe sticking at nine for as long as possible is the chicken route? Maybe I should do it? But I was talking to Nucleus about maybe doing an album together and we looked at each other and both thought 'hmmm, that's a long time to spend together in one room.' But working together we'd reduce the time substantially so that could be an option. That's more likely to happen…
Do you always collaborate in person?
We've never, in 23 years, done a track on the internet. Every time we work we have to fly. He was just over here actually and he flies over around four times a year. Seba flies over as well. It's really important I have that have physical connection with the two.
How about the final 10% – the mixdowns and everything?
Everything is done together. The mastering is revised over the pipes a little but the programming is always done with us here in the studio in front of the screens with loads of tea and chocolate biscuits. I've never worked on the internet. I like that.
What's the most recent things you've made when Nucleus last visited? And what's coming up in general?
The next two Esoteric releases are done and ready to be scheduled. There's something for a few other labels I'm not sure I can mention and also the next Seba & Alaska collaboration, some remixes and something on Samurai. There's a lot more Alaska things en route actually.
I was going to ask you if there's a point in the creative process where you think 'hang on, this is an Alaska vibe' and start working differently?
That's exactly how it works. That moment I'll put it to the side as an Alaska project. It's really weather dependent. The winters here get as low as -25 so it's fucking freezing. It effects the music you make. And it's boiling in the summer here too so I get that massive contrast through the seasons which has a big influence on the music I'm making. So there's about four Alaska things, the next Wax Breaks album at the end of the year and the next Metalheadz 12" which will be out next year. I've started performing that one live. I performed it Rupture last weekend. Funnily enough I got to meet Mako there and thank him personally for the remix.
We need to big up Mako!
We do. He really nailed it. No one has ever remixed Nucleus & Paradox before. He was the obvious choice as the person to remix us first, but we didn't want to tell him and create pressure. Then we spoke on the internet and I accidently told him. He was like 'really?' He didn't send us any clips then hit us with the full mix. We were like 'wow!' The original 2005 mix is really crusty. It's called Twelve Bits because some samples were sampled at 12 bits to give it an analogue feel. So yeah, it was good to shake his hand at Rupture.
Let's sign off on the live show… I've not experienced myself but I need to. I've heard how you talk through the process and introduce it all. Sounds awesome.
Yeah, I think I talk too much. It's very stop/start – it's a live show and I'm loading up each track on some pretty old machinery. It does have little breaks in between the songs, like a kids disco. So yeah during those times I try and bring across breakbeat theories and talk about breaks. I have to play a break while I'm loading up the second track. It only takes a minute but that's quite a long time – so I bring these breaks I've chopped up and play them. Like an interlude playing between the tracks. I'll talk about the break – the year it came out, the drummer, everything. I always think I talk too much but the feedback I get is always positive.
You're packing all this old kit. This must cost a bit to tour…
Yeah my rider is a bit specific. When it comes down to kilograms and baggage, I've done so much research on airlines and their baggage allowances. It's a pain in the arse and my computer is ancient. It's a pain but it's a drum programmers dream, the program I use, and I turn the screen to the audience so people can see it. No one is stupid enough to use the program. They look at it and say 'what's that? Is it Tetris?' The resolution is so low it does look like a computer game. But that's part of the whole appeal and nature of what I do. Like I said, more than anything else, my job is a professional drum programmer… Whether I'm doing it in the studio or on stage.
Nucleus & Paradox – Wrath EP, t-shirt and prints are available now on Metalheadz