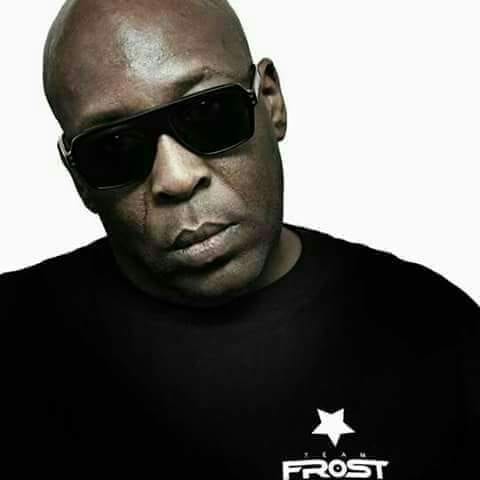 Got a reading list? Good – add Jumping Jack Frost's autobiography Big Bad & Heavy to it.
Haven't got a reading list? Start one now – and add Jumping Jack Frost's autobiography to it.
There are various reasons why…
Musically it's a serious piece of history: As one of the foundation jungle DJs who was there from before day one, Frost sets a vivid scene from which our music develops; the exciting, illegal cultural froth that bubbled in amongst the M25 raves and club events. He plots the birth of jungle, its development into drum & bass, its commercial explosion and how it spread around the world.
From 1988 through to the early 2000s, Frost was present and influential during many pivotal, critical and poignant moments in the genre; from signing the Bristol boys with Bryan Gee to seminal tracks of his own like Burial. From playing Fabric's opening night to playing with Stevie Hyper D the night before he passed away. From playing some of the earliest acid house parties to being one of the first drum & bass DJs to hold down not one but two residencies in the US.
Frost is in good company as these moments aren't just told by him but also friends such as Goldie, Roni Size, Bryan Gee, Fabio and many more who all join in and lead the narrative at points – developing Frost's stories, adding their own perspectives and sharing anecdotes that range from trippy celebrity encounters to near-death experiences to straight up violent skylarking.
You see this isn't a straight-up history lesson. And Jumping Jack Frost is definitely not a history teacher. Most junglists will be more than aware that he's had a chequered past and enjoyed a vice or two. But perhaps not at the levels Frost actually admits to his book.
His Brixton upbringing on the streets paints a picture of an entirely different – and dangerous – London. His early life is rife with violence, crime and brutal moments of rage. And while his immersion into the very genus of acid house and rave culture saved him from a much darker career path, there have been many ghosts that have followed him through his life until the last few years.
Battling depression, various addictions and a temper that you really wouldn't want to cross, Frost (aka Nigel Thompson) has experienced the ultimate highs and the scariest lows. Having spent the last 10 years rebuilding his life, his relationships with friends and his relationship with himself, Big Bad & Heavy is the final stage of him putting his past to rest and exposing his story to all in the hope that others learn from it.
We sat down with him last week to reflect on some of the many highlights and really capture where he's coming from. Like Frosty's life itself, this is a truly unique interview – please add it to your reading list.
Let's establish one fact: if it wasn't for drum & bass your life would have ended up very differently…
Completely. Not just drum & bass but music in general saved my life. It got me through so much bad stuff. Some of it self-inflicted, some of it not self-inflicted. I was in some fucking dark places doing fucking dark things. Music was a way out.
But it feels like you never took it as a way out – you took it because it was another buzz to get into. Like you weren't looking to get out of the criminal way of life particularly, you were enjoying it all.
Yeah I was happy living the criminal life for a long time but things happen very quickly. Life has been a blur and things go back and forth and crazy things happen in personal life, in DJ life, in everything in between. I've looked back so much and thought 'wow wtf?!?' so many times. I had no idea at the time. But life is a little slower now, I can reflect and consider how mad things were. I'm trying to be a bit normal now, I'm trying to pause and think about things differently. It's only in the last few years I can actually say that music saved my life. Before then it just was my life if you get me. I'm incredibly grateful. So did you like the book? Were you shocked?
I'd heard rumours about your past… But not to this degree. Did you actually take a gun to a family wedding?
Yes. I got pissed off, left the wedding and picked it up and came back. That's the height of how dark things got. Fucking crazy. What was I thinking? I've been a victim of my temper in so many ways over the years. That is a good example of how bad things got.
Your temper is a theme throughout. Why do you think you got the rage so often?
The environment I grew up in. That was how you lived life in Brixton and in London as a poor black family. It was harsh – the elders were violent, we saw how they made sure they got what they wanted and how they survived. So we did that too. We looked up to them and took on those aspects of our lives. You had to fight. If you wanted to get through life growing up in them times you had to fight fucking hard mate.
There are a few times when your criminal life and your DJ life merge dangerous aren't there. The story that stands out is you doing the Burial artwork in prison. That's such a drum & bass story.
Ha! It is! It was crazy mate, you know what I mean? I was describing it on the phone to Bryan and had this really clear vision in my head with the Versace face but as a black guy. He knew exactly what I was saying and when I came out of prison it was perfect.
That whole incident that put you in prison is actually what got you in the studio too… Funny how something really bad gave you something so good.
Yeah that was a such a blessing. Before then I had no intention of going in the studio – I was a DJ and DJs didn't have to produce back then. But then the pressure of a court case and a sentence I thought was going to be at least four years was such pressure that I had to do it. I had to focus. I kept it to myself and didn't tell a soul. My lawyers kept putting it off and off but the pressure building up inside was immense. I didn't even tell Bryan – I was doing it myself. It drove me to put everything into place and get everything ready when I would inevitably go away.
Bryan says some awesome things in the book. Fabio too. The importance of friends is crucial. When everything came to a head and Bryan had to have an intervention with you, he was scared. You either become stronger mates or you never see each other again after something as heavy as that, right?
100% It still hurts to think about it sometimes. When I realised Bryan felt that way I knew there was something that needed changing in my life. If I want to change how I see myself, and how other people perceive me, I have to change everything about the way I think, react and behave. A whole new reboot of yourself. You have to be honest with yourself. You have to admit that you're not a very nice person. Then you have to ask if you want to change. You have to change for yourself. I now look at myself as a nice guy – but I haven't always. It takes years to adapt and no one can stop you. If you want to be a nice, positive person then you can. If I can do it anyone can do it!
It's taken you 10 years to work that out yourself hasn't it? The book takes us up to the mid 2000s and I guess the last 10 years have been a very slow recovery and the book is the final chapter on that. You putting your demons to rest maybe?
That's it right there.
I think I wanted to know more about that recovery in the book. That must have been the hardest 10 years of your life?
Yeah I thought about that but a lot of it was very personal, rebuilding bridges and very harsh self-acceptance. It was too personal for the book. Even now I'm still learning and I'm still hearing things I might not want to hear – I hope it makes me a better person and I hope it helps me help other people.
One thing that was important about the book is to spread a message about people getting help. There's no shame in asking for help. There's no shame in helping people. There are so many pitfalls in this game and in this life – we need to help each other more. We should all encourage each other to do better. The courage to make a record and put it out – that's your soul you're putting out there. The same with DJ sets. It takes bravery and balls to step up and play to people. I see people getting rinsed online sometimes and I hear people saying bullshit things about people. If you don't like something, move on. Don't trash it. We're a big family now in drum & bass – but not so big we can trample on each other. We built all this together and I'm so proud of how we've built drum & bass and how new generations come through – I want to help as many people as we can.
The mental health message is strong. That's one big difference between growing up in the 70s and 80s and growing up in the last 20 years isn't it?
Yes. No one talked about depression. We all had to man up. My dad never talked about it. My uncles or grandparents or any elders never talked about it. We never talked about. I didn't even know what it was. I was feeling so dark about everything for years. I had no idea it was curable and something I can work my way out of. It's something we don't have to suffer – but we're suffering from it more now than ever before. I would be doing myself an injustice if I didn't really emphasise the mental health issues and the message of helping. I could have written a bunch more chapters about what I'm doing now and blah blah blah, it would all be a very nice sweet ending. Like a cherry on a fucking cupcake. But I wanted to leave it there… Things were raw and I needed help. That was a much more of an important ending and message – you can talk to people, you can get help, it's not a taboo. And no matter how big and bad you think you are, you're not immune or bulletproof to mental health. That's so important to me.
Tell you one of the most endearing things that's stuck with me from the book? You dressed as Santa at a homeless centre…
Ha! That was a mad one. It was a hint at how I can help people and how I can be a nice guy. I never told anyone about that either. It was a secret Santa mission and I did it two years on the trot and went back home to family as if it never happened. Just carried on with my day. I felt great to give something back – I can look back with fondness on that. I regret a lot of things but definitely not that.
So what next?
I'm very very busy again now. Loads of DJ sets in cool locations and clubs and festivals. A lot of promoting this book. I'm enjoying being able to express myself through the music I love and being able to do it honestly. I'm enjoying being the normal me – the person I should have always been. It's taken me years but I'm at peace with myself. I can live my life, watching my kids grow up, helping the label and watching music grow. You know one of my favourite highlights so far this year? Playing at Andy's XOYO show. We've got a lot of history and he's a good mate. It was great to get down and just roll out those classics and see them still got the same reaction. That was special. So yeah… I'm still here, I'm very grateful and feeling very blessed about my life right now.
Jumping Jack Frost – Big Bad & Heavy is available now: Add it to your reading list