Feeling the autumnal pinch a little this week?
It's cold and gloomy outside, so let's warm up with two HUGE bangers from Viper's latest signing Raw Theory. Meltdown and Flightpath are two monstrous bass workouts that will have you instantly craving that weekend dancefloor magic the moment you press play.
With major props from Friction on his Radio 1 show last week we thought we'd send the Midlands duo a few questions.
It's time to get to know Raw Theory…
How are things going at Raw Theory HQ?
"Things are really good at the moment thanks. Our single is out now, the tracks have been introduced, things seem to be kicking off nicely!"
Are you still buzzing about Friction highlighting Meltdown as a big tune?
"Yes, every day since the show was broadcast we have been buzzing our socks off! We knew the track was going to be played, but we never expected it to be Friction's track of the week. It's a great feeling to have a track given the nod of acceptance by such a D&B legend."
Actually, we're getting ahead of ourselves here. Perhaps you should introduce yourselves and get everyone up to speed… 
"Haha well we're Raw Theory (Ash 28 and Tim 27) from Stourbridge in the West Midlands. We've been producing as a duo for just over five years now. We had our first release on Cyntax Error three years ago. Since then, we have been working solidly on drum and bass, trying to get our tracks sounding as near to perfect as we possibly can. And now here we are, exclusively signed to Viper Recordings. Happy Days!"
And how do you both contribute in the studio? Partnerships can be a strange balance…
"We've grown to be best mates over the past few years and we share the same love for euphoric, hard-hitting drum & bass, so that makes it easier to make tracks because we share the same goal when we're producing. Most of the time we crack on with ideas on our own PCs at home and meet up a few times a week to make tunes together. We're both perfectionists which helps a lot when it comes to making music, especially if you know what you are looking for because you won't stop till you get there. We take it in turns laying ideas down until we eventually strike gold, then we fight for the mouse trying to get our ideas in there!"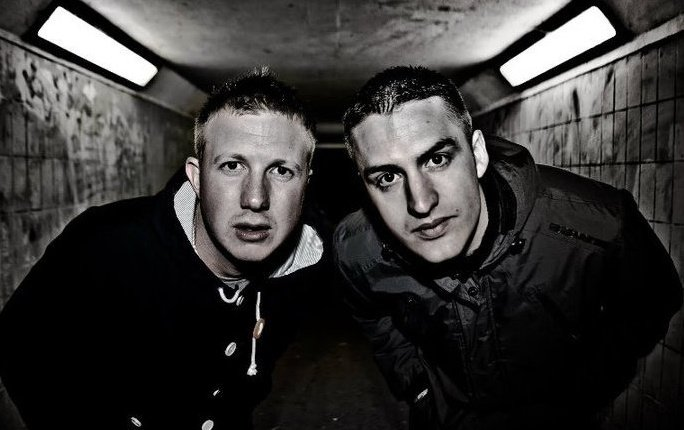 I hear you spent three years honing your skills until you started sending out promos… Good call. Too many young producers rush in too quickly. Are you pleased with how the waiting game has played out for you?
"Yeah we are so happy. It was our plan from day one not to release everything that we wrote. We have easily made over 100 tracks but haven't been completely satisfied with 90% of them. We learn from production techniques discovered in these tracks and move onto the next one. We knew that if we released all of our tracks our reputation would be up and down like a yo-yo. So we waited patiently and the rewards so far have been well worth it!"
There are some BIG sounds in your blend. Who's inspiring you on a production flex right now?
"We try and draw in inspiration from all kinds of music, but the stuff we are writing at the moment, the dancefloor stuff, we really look up to all the Viper guys (obviously) as well as the likes of Sub Focus, Camo & Krooked, Knife Party, Tantrum Desire, Loadstar, Drumsound & Bassline Smith. We've also been loving Far Too Loud's banging electrohouse beats recently. Anything with a lot of energy and heavy drums, we like!"
And who inspires you both on a DJ vibe right now?
"DJ-wise there are so many! All the usual suspects do it for us. The list would be massive! The most inspiring thing is when we see dancefloors going mad to our music. There's no feeling like it! Makes us want to get straight back in the studio and make something bigger!"
What happens after Meltdown / Flight Path? Have you already got some big tracks in the pipeline?
"We are currently working on our second single which will be out early next year. That's been coming together nicely, so yeah in a month or two we should have some pretty big tracks ready to unleash!"
What else should we know about Raw Theory right now?
"Since we have been involved with Viper our music career has started to get really exciting. We are already getting bookings all over the place in the UK and in Europe. You can catch us down at Cable, London for the next Viper showcase in January!"
Finally, please tell us something about yourselves that you've not told in any interview before…
"We played at the Cross Club, Prague in February this year. After being in the country less than one hour we had police threaten to pull their guns on us for not getting our underground train tickets stamped, that we actually had bought but hadn't validated! We had to pay a fine of 800 korunas (£25) each!! We were gutted. The gig later that night more than made up for it though! The Czech ravers know how to party!"
Meltdown / Flightpath is out now on Viper. Listen & Download.