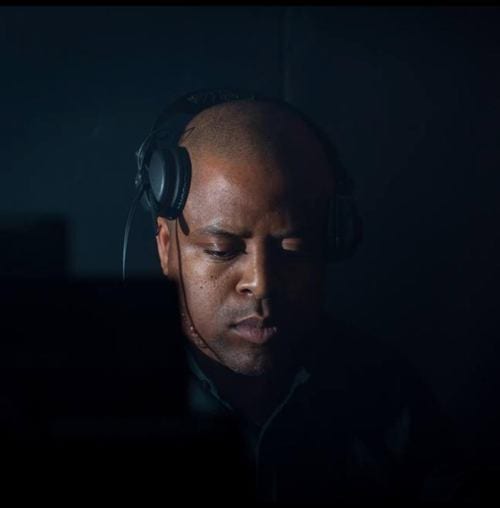 Digital is unparalleled in D&B: the immediacy of the signature sound, the place it takes you – check the exclusive mix he's given us – and there's nothing like the sense of anticipation that precedes a new Digital release. And now? He's readying a ton by the end of 2014 alone, on key labels ranging from Horizons, V (note the mention of Response btw), Dispatch, 31, and is due to drop a three tracker on November 17 via Tempo. On clear vinyl no less: an excellent point of focus to begin the discussion then.
There's some interesting elements to these tunes on this three tracker, some subtle changes and shifts in 'Digital' sounds…
My approach on my solo production never really changes because I want to make music for clubbers, ravers and people who enjoy a track that's a little bit individual.
Personally I think I do that naturally without really thinking about it although, the vibe of a strong sample might take me in a direction… like on 'Fire' the vocalist obviously sounds concerned so the track has a nervous edge to it.
Speaking of, how do you approach production now compared to, say five years back? This isn't even touching on your extensive past of course but it's just a discussion point.
Not a lot has changed for me, but I do find myself doing a lot more processing than before to make sounds stand out better in the final mix and as D&B has gotten faster over the years it's a mission to get breaks sounding nice and crisp.
What influenced 'Logged In', it's a proper slow burner. Beautiful synths, deadly bass.
'Logged In' is a bit of an experiment with synths. I wanted to achieve a finished track which was mainly synth based. I found everything very 'shiny' so that's why I got the amen out, The amen combined with the pads I liked on Omnisphere and Alchemy gave me the vibe for the type of track which was around about 94/95.
'Africa' is a stunner…
I did it a while ago but I was never happy with it because it had too much elements, but as I stripped it back to the drum and bass and the essential sounds I realised it was meant to be a dubbed out stomper.
You go way back with Spirit: does he call past from time to time to lend an ear or hang out?
He's not far from me at the moment so we work together when we can. We have a track on the 31 Records Lp, a 12 coming on Phantom Audio, a 12 on V Records with Response and and an EP on Metalheadz.
Yeah he's always hanging around here like a monkey ha ha.
Tell us about your forthcomings?
There's a few bits left to release over the year, such as…
Horrific Recordings 003 'Corrupted Soul'
V Records 051 Digital+Spirit+Response 'Garrison Law/ Different Style'
Dispatch Recordings Red Alert EP
Ingredients Music Red Tape EP
Horizons Music Death Wish EP 2 x 10″
31 Recordings LP Digital and Spirit Captive
DJ Digital exclusive mix