2012: a year that will go down as a fine drum & bass vintage. No question.
Whatever your party poison, there's been more than enough to satisfy. From the deep and soulful rollers, to the firing filthy shizzle via gritty mechanical grooves and vibrant technicolour electro: chart-busters and underground rumblers alike – 2012 is the year where all sounds and styles have been embraced, celebrated and smashed out of systems worldwide.
The Best Track category in the Drum&BassArena Awards 2012 reflects this perfectly. The nominations sum up just how good the year's variation has been…
Culture Shock – Troglodyte
Dub Phizix & Skeptical – Marka (Featuring Strategy)
Noisia & The Upbeats – Dustup
Sabre, Stray & Halogenix – Oblique (Featuring Frank Carter III)
Calyx & TeeBee – Elevate This Sound (Winner)
What a spread! Each one of those nominations represents the very best of their sub-genre, and a cool reminder of just how exciting drum & bass truly is. But what did the DJs think? We know what you voted, but what's been massive for them? We dusted off our DJ black book, called up everyone we could and demanded they told us their own tunes of the year. We've had a great response. Top tunes have come from over 50 DJs with everyone from Kasra to Kove and Wickaman to Wilkinson pledging big love for the beats this year.
We'd also like to thank all you who've supported us, shopped with us, partied with us and read our blog this year. 2012 has been an amazing year all round. Let's see what the DJ's said…
Aeph
Tune of 2012: Jade – Lazertag (Neonlight Remix)
Listen and download!
"Headbanger, jaw-bouncer, mind-lifting tune! Tight production, catchy vibe. Dancefloor smasher in every single city around the world, 100% rewind caller. I wouldn't ask for more this year."
AMC
Tune of 2012: Athys & Duster – Nemesis
Listen and download!
"The tune smashes it everywhere I play it and people start going nuts before it's even dropped at the moment."
Ant TC1
Tune of 2012: Octane, DLR & Break – Murmur
Listen and download!
"I've gottta say Octane, DLR & Break's Murmur without a doubt, but I'd also pick Sabre, Stray and Halogenix's Oblique they are the two standout tunes of the year for me."
Basher
Tune of 2012: Culture shock – Troglodyte
Listen and download!
"Played it every set this year, D&B at its finest."
Billain
Tune of 2012: Ulterior Motive & FD – Drum Circle
Listen and download!
"Rare grooves that bring that old funky movement with smart drum placing. And if that wasn't enough, you can feed upon the cowbell and random sample factor. 10/10"
BMK
Tune of 2012: DJ Hazard – Never The Same
Listen and download!
"I was waiting for this for a while, and to finally get my hands on it was like how it felt back in the day when I picked up that latest release on 12″. I immediately rushed home to get this on the decks and mix it with as many tracks as possible. DJ Hazard never disappoints, What a TUUNE!"
Bryan Gee
Tune of 2012: Dr Meaker – Fighter [Unreal Mix]
Listen and download!
"It's been a while since I signed a track from a new artist and they blow up like this one … Just one out of 6 mixes, they're all great in their own style but Unreal's remix reminds me of when you had a big tune in the scene that got dropped by everyone. The vocals are uplifting and the bass is just get-down dirty. For a new producer this one smashes it!"
Callide
Tune of 2012: Prolix – Funkhole
"It's perfectly executed, highly effective, ridiculously dangerous and it's a great way to stay in shape."
Cause4Concern
Tune of 2012: Audio – Headroom – Listen and download!
"We intro'd with this track a lot over the past year and it never failed to get rewound and smash dancefloor's every time we played it. With its cinematic intro and vocal snippets, you know it's only a matter of time before the dirty funk drops and BOOOOOOOOOOOOOM!"
Chords
Tune of 2012: Culture Shock – Troglodyte
Listen and download!
"Best tune of 2012 has got to be Troglodyte. Bouncy quality vibes and an exemplary production. It's an education and inspiration for all us budding producers!"

Chroma
Tyrone's Tune of 2012: Planas ft. Ed Thomas – Breathtaking (dBridge Soulsteppers Remix)
"For me this tune has everything I love about D&B, soul, simple yet effective b-line and clean drums. Whether playing a hard or a more liquid set this goes off every time and is one tune I never tire of hearing."
Sato's Tune of 2012: Break – Framework
Listen and download!
"The dyanmics on it are just ridiculous! I appreciate it both as a raver and an engineer. Disgusting."
Phobia's Tune of 2012: Foreign Concept – Mob Justice (Enei Remix)
Listen and download!
"I love the original and Enei flipped it on its head and rolled it out. I love the way his music is just straight for jugular no nonsense D&B. My favourite roller of 2012"
Chris Renegade
Tune of 2012: Neonlight – Computer Music
"2012? Well, forgetting all the lame attempts at commercial vocal anthems that producers have been busy with, it's been a great year for drum & bass, and I feel a good few artists are really coming into their own, producing solid material. Including a duo I've signed: Neonlight's "Computer Music" is a smasher, it's very well written, directly for the drum & bass dancefloor (instead of few daytime Radio 1 plays!)"
Clive Ingredients
Tune of 2012: Ruffhouse – Bypass
Listen and download!
"Someone had to make techno inspired drum & bass that progressed in the same way as techno does, and Ruffhouse nailed it with this track. Awesome."
Danny Byrd 
Tune of 2012: Brookes Brothers – Loveline
Listen and download!
"This had the energy but that extra vibe that a lot of liquid tunes this year lacked for me. Full of talkbox goodness and one of the catchiest basslines of the year!"
Dementia
Tune of 2012: Mefjus – Far Too Close
Listen and download!
"His breakthrough track is perfectly suited to Neosignal because Phace & Misanthrop are well known for their unique style and outstanding technique. These components are brilliantly mastered by Mefjus as well due to his impressive sound design (high-pitched drums, combined with gigantic basslines) which in the meantime has been taken up by other producers. In my opinion both his technique and music work remarkably well and I am looking forward to hearing what he brings in 2013."
Dexta
Tune of 2012: Turncoat – Arkaik
Listen and download!
"I absolutely love this track, my favourite from Arkaik's Trauma EP. The bass is very deep and moody and gels well with the half time beat. Real brave zombie-giraffe style business in my opinion!"
Dimension
Tune of 2012: Cyantific – Defect
Listen and download!
"There's been a lot of brilliant tracks released this year and it has been a brilliant year for drum & bass. Having said that, my track of the year this year has to be Cyantific's 'Defect'. Yes, I've played it in all my sets and yes, it does of course always go off. However, the reason this is my pick of the bunch ahead of any other is because it's the tune which inspired me to write 'Detroit'. It was in the folder of tunes which helped me secure a single on Cyantific Music, opening me up to a world of opportunities which were previously were unthinkable. A massive thanks to Mark, Jon, Jamie & everyone at Drum&BassArena and Merry Christmas to everybody!"
Ekko & Sidetrack
Tune of 2012: Culture Shock – I Remember
Listen and download!
"It was one of those tunes that we'd heard for about a year before it finally came out and since it has it hasn't left our crate. Culture Shock always nails the vibe on his tunes but this just has the perfect blend of dance floor and groove mechanics."
Frankee
Tune of 2012: Audio – Headroom
Listen and download!
"This track has everything I'd expect from a D&B track: Tight drums, big bass and a catchy hook. As soon as I heard it I couldn't get it out of my head, which is why it cements itself as my favourite track of 2012. Big up Audio!"
Fred V & Grafix
Tune of 2012: TC – New Style
Listen and download!
"We love 808 bass-fuelled music, so hearing New Style was very refreshing to us, especially the fact it was written at drum & bass tempo. It's been near impossible to not include it in every set since we got it!"
Futurebound
Tune of 2012: TC – Bass By The Tonne
Listen and download!
"TC's had a fantastic year with his own productions as well as churning out some killer remixes. But Bass By The Tonne really stood out as one of the tracks of 2012 for me and no matter where you drop it the reaction is big guaranteed!"
HashTag
Tune of 2012: Hadouken – Bad Signal [The Prototypes Remix]
"This track has all the elements that tick the boxes for us: a catchy vocal, great chords and, when it drops, it has serious dance floor energy! We think it's really hard to get that perfect balance… The Prototypes really pulled it off on this one!"
Hybrid Minds
Tune of 2012: Delilah – Shades Of Grey [Spectrasoul Remix]
"2012 has been a big year for drum & bass and it's been hard to pick just one track but this has got to be a big contender for us. Every time we play it it gets a massive response. We love seeing the crowd have a sing along and this does the trick nicely. Its ticks all the boxes for us. What a beauty."
InsideInfo 
Tune of 2012: Mefjus – Distantia
Listen and download!
"Because it sounds like it was produced by an alien."
Jade
Tune of 2012: Mefjus & Neonlight – Hot Glue
Listen and download!
"Two amazing young talents joined force for this drum and bass masterpiece, featuring mindblowing melodies backed up with a powerful dark bassline."
Jae Overtech
Tune of 2012: Optiv – Krakpot (Jade Remix)
Listen and download!
"This track has all the traits for me. Aggression, energy and pure vibes. This is arguably my favourite release on Close 2 Death and will remain in my bag for the years to come."
Joe Ford
Tune of 2012: Billain – Total Darkness
Listen and download!
"In my opinion the most impressive piece of production to date."
Joe Syntax
Tune of 2012: TC – New Style
Listen and download!
"Love this half stepper, it has a very original carnival vibe and has gone off pretty much every time I've played it this year, which has been in most sets."
Kasra
Tune of 2012: Spectrasoul – Light In The Dark Feat Terri Walker
Listen and download!
"I'm a big fan of these guys but I have to be honest: when I first heard this tune it didn't really grab me. Then I found myself listening to it over and over at home, started playing it out then fell in love with it. Sublime"
Kove 
Tune of 2012: Wickaman Hoodlum & Mavrik – One Scratch
Listen and download!
"The tune that's been in every one of my sets since its release. Brilliant old school vibes and a perfect mix tool."
LoKo
Tune of 2012: Mind Vortex – HotBox
Listen and download!
"There has been so many massive tunes this year but every set without fail if I need to get the crowd going I draw for HotBox and the place goes crazy. Massive props to Mind Vortex… Fucking tune!"
London Elektricity
Tune of 2012: S.P.Y – What The Future Holds
Listen and download!
"The most beautiful and dramatic piece of D&B released this year, and the title track of S.P.Y's debut album. This is a perfect piece of D&B for me – it shows how free you can become within the boundaries of D&B. A masterpiece."
Maduk
Tune of 2012: Dimension – Children
Listen and download!
"Amazing composition, arrangement and mix. Perfect for home listening and works great on the floor as well. Original feel good drum and bass at his best!"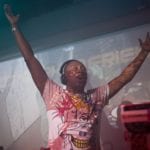 Marky
Tune of 2012: Jaydan – Insatiable
"This track has consistently been a winner for me in my sets across the globe. It's a vocal that people know but the tune is so well put together around it you can't help but get up and dance. Props to my man Jaydan for this rare slice of funk!"
Maztek
Tune of 2012: BTK – Drop It (Optiv Remix)
Listen and download (original version)
"Definitely the tune I play the most. It's DJ-friendly, groovy and mixable with everything."
Mediks
Tune of 2012: Wilkinson – Need To Know
Listen and download!
"This track has been on repeat for us ever since we got hold of it! the chord structure puts a smile on your face no matter what mood you're in."
Mefjus
Tune of 2012: Enei & Eastcolors – 2012
Listen and download!
"Roller of the year on the LP of the year released on the label of the year." 
Memtrix
Tune of 2012: Noisia – Tryhard
Listen and download!
"Although picking just one track is hard enough, this one truly shone through for me this year as it's a typical sounding Noisia piece with a bright, modern makeover, exactly what the scene was calling for. Once again these guys show us all how it should be done, and I cannot wait to hear what they have in store for 2013."
Metrik
Tune of 2012: Sub Focus – Out The Blue (feat. Alice Gold)
Listen and download!
"There's not one drum & bass show I've been to this year where this tune hasn't been dropped multiple times so it's a hard one to ignore. Great melody writing with brilliant production values."
Mind Vortex
Tune of 2012: Calyx & TeeBee – Pure Gold
Listen and download!
"The attention to detail is absolutely all inspiring"
Navigator 
Tune of 2012 – David Boomah – Nuh Have No Heart
"Love the voice and lyrical message from Mr. Boomah. The riddim makes me just wanna spontaneously brukout! Gives a good feeling about where the artist side of jungle/D&B is headed in 2013. Nice work all round!"
Neonlight
Tune of 2012: Camo & Krooked -Menace [Mefjus Remix] Listen and download!
"We played this tune in nearly every set this year. Great production, as always, and he used a kind of synth sound for the hook we really like to use in our own tunes as well. Top notch and big up Mefjus for that great year!"
Nymfo
Tune of 2012: Audio – Headroom
Listen and download!
"Such a catchy tune, but not cheesy at all! Always goes off!"
Octane & DLR
Tune of 2012: Cymatic – Turn Over The Page
Listen and download!
"Because of the sheer amount of influence outside of drum & bass the track has, and we can still call it Drum & Bass. That's what we love about this music… And also, we made it! (With Ruckspin and Quantum Soul).
Phil Tangent
Tune of 2012: DRS – Renegade (Feat S.P.Y & Kemo)
Listen and download!
"I really enjoyed the whole DRS album but this for me is the stand-out track with its hard-hitting drums, nawty bassline and trademark rhymes by DRS. I always try to include it in my sets wherever I play."
Presha
Tune of 2012: Skeptical – Static
"This is actually coming in early 2013. Skeptical has been in my top 5 all year and this tune is an essential part of every set. Funky and menacing at the same time, the perfect combination."
Raw Theory 
Tune of 2012: Mind Vortex – Hotbox
Listen and download!
"The tune oozes rough bass, heaviness and all round sex appeal. It's guaranteed to make the crowd go mad everytime without fail! We love it!"
Ray Rampage
Tune of 2012: Calyx & Teebee – Elevate This Sound
Listen and download!
"In reflection, yet again it's been an amazing year for drum & bass. We've seen release after release of fantastic music. Working for Ram, I'm going to be a little biased but I do want to give some mentions of other great tracks such as Marka and Oblique. There's been so many. But for me the best is Elevate This Sound. I fell in love with it the minute I heard it. It's been a big part of my sets this year. To top things off, I also had the pleasure of working with the guys' album All Or Nothing. It's been a real honour."
Rene LaVice
Tune of 2012: Culture Shock – Troglodyte
Listen and download!
"This track is wicked. It has a kind of technoey, grooving feel to it that's infectious and entrancing, yet it blows the roof off the club every time!"
ShockOne
Tune of 2012: Sub Focus – Tidal Wave
Listen and download!
"It's f*cken sick."
Six Blade (aka Mattix & Futile)
Tune of 2012: Tantrum Desire – Get With It
Listen and download!
"My favourite track of 2012 was Tantrum Desire – Get With It. It's a wicked tune and kills it on the dancefloor every time!"
Smooth
Tune of 2012: DJ Fresh feat. Rita Ora – Hot Right Now [Camo & Krooked Remix]
Listen and download!
"Couldn't stop playing this tune. It's just one of those that always kills it!"
Sudden Def
Tune of 2012: Mampi Swift – Gangsta
Listen and download!
"Instant rewind track!! Mampi just killed it with this!"
Technimatic
Tune of 2012: LSB – Overthinking
Listen and download!
"Just about the perfect liquid funk tune. Vocals, keys, strings, and that deep and rolling groove makes it a complete gem."
Teddy Killerz
Tune of 2012: Culture Shock – I Remember
Listen and download!
"A well balanced mix of melody & energy – superb stuff!"
Trei
Tune of 2012: Calyx & Teebee – Pure Gold (feat. Kemo) Listen and download!
"I'm a 90s kid and this captures the vibe sooo well! And that fretless bass! Brilliant tune."
Villem
Tune of 2012: Future Cut – Obsession [Ulterior Motive Remix]
Listen and download!
"The boys killed this remix and must have been semi-cacking themselves when they got the remix stems. Love it, although it does make me a little sad the Future Cut are not writing drum & bass anymore!"
Wickaman
Tune of 2012: Wickaman Hoodlum & Mavrik – One Scratch
Listen and download!
"I have to say I'm really pleased with my Program release One Scratch and Sound Clash with Hoodlum RV and Mavrik. For one it's been great to have so many friends with me on one release and second it's been cool having such a good reaction from so many prolific artists in the scene."
Wilkinson
Tune of 2012: Culture Shock – Trogladyte – Listen and download!
"What DJ hasn't played this tune in every set since it hit the clubs earlier this year? It came out of nowhere… Everyone was waiting for the A side I Remember but Trogladyte, for me, was the predominant track on that single. James's weird horror voices and catchy bassline driven by massive beats has made this a smasher of a tune this year!"