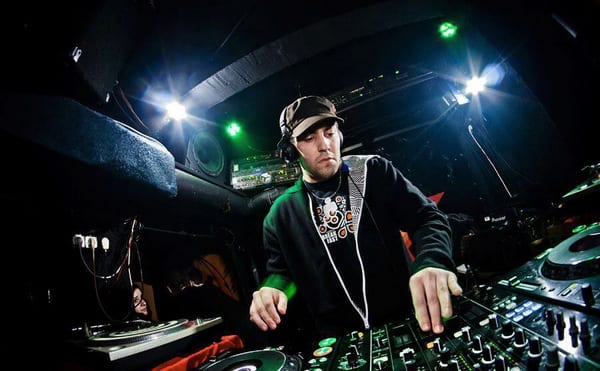 'Nine dragons heads… and nine is the number of layers in the main bassline'
The enigmatic Minor Rain has moved in like a virus, taking no prisoners with the new Resistance ep on Addictive Behaviour, the blood red theme running alarmingly strong throughout. For more? Check his latest AB podcast takeover at the end.
Hello MR what are you up to this fine day?
Hey Damian, I am just finishing some music projects and drinking a cold beer.
You're no stranger to the label: you guys see eye to eye/think on the same level? In what way?
I am no stranger indeed. Yes we have a very similar vision about what works as dance floor / neurofunk drum and bass. The guys from Addictive are doing very well and they deliver a high level of quality. For this EP we both wanted to focus on heavier powerful sounding tracks.
Take us into the new release, and particularly the theme/title of resistance… is this about human resistance to outside forces – such as politics – or internal, such as disease/immunity?
As I mention above this release was about all round power.
It was to be as strong as possible, which is a little bit unusual from my side. I've made a lot of neurofunk tunes and this time wanted to bring through a more aggressive side of Minor Rain. For me 'Hydra' nailed this intention!
So the 'resistance' theme was partly about resisting the usual Minor Rain concepts of making music and use unconventional ideas to make something powerful and frightening. Of course the resistance theme could also be very easily translated into something like zombie apocalypse, riots, viruses and so forth. All of these ideas were running through my mind whilst writing this EP….
… and the very big title track? Love the TENSION in this.
Yeah 'Resistance' itself has a robust sound. This was the first track of the EP I made. Regardless I still tried to put at least a little Minor Rain signature sound into the intro, so you can hear some typical strings but keeping to the point of the ep after few seconds they pass and the intro transforms to become more aggressive..
Take us into 'Hydra' and why the title? I feel like this is about humanity: resolve one thing and another problem comes! I love the track.
You're almost right. I had a lot of problems making the main synth that I wanted to lead whole track with. It really took a lot of time to make something powerful but also unique. It wasn't until I'd finished the tune that I decided to name it 'Hydra'.
'Hydra' in Greek mythology means monster snake with nine dragons heads and nine is the number of layers in the main bassline.
You work in a way that does not limit itself to D&B, you do a lot of different styles, is this the case?
Exactly. I try not to limit myself when making music. I find when you start to limit yourself by doing just one thing over and over you stop progressing. It's easy to get the opportunities in life to try something new but then you can easily fail if you find out you don't have the skills to see it through.
So I say keep doing everything you like, not sticking to what other people want or expect from you. This spreads your skills and helps with natural progression.
What's a big studio tip for people then?
Don´t drink too much alcohol otherwise you start to be counterproductive!
How will this release be presented? I feel it will be special, re the release/packaging?
It´s gonna be limited edition Blood Red color vinyls. I just received my bundle and must say it´s seriously one of the most beautiful vinyls I've had in my hands. It looks like candy you wanna eat immediately!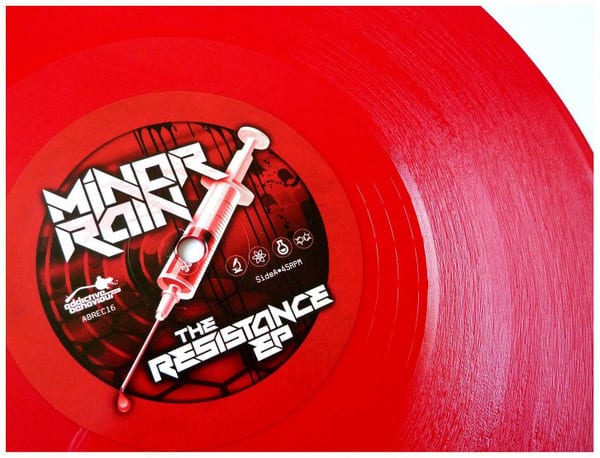 Could you name a track that you like, any genre, right now? Why is it cool, to you?
There's different style tracks I like but I am gonna choose a D&B one. 'Hyenas'. I am a guy who really loves earlier stuff by Noisia and artists of those times and this one reminds me of their older stuff. Every time I hear 'Hyenas' it triggers something special in me but I can't quite pin point what!
What films do you like, any recent or niche/unusual ones/tips?
To be honest I haven't spent much time watching films lately, so I don't have a great overview.
I did recently watch The Revenant and this film exactly suits my taste, so would recommend it.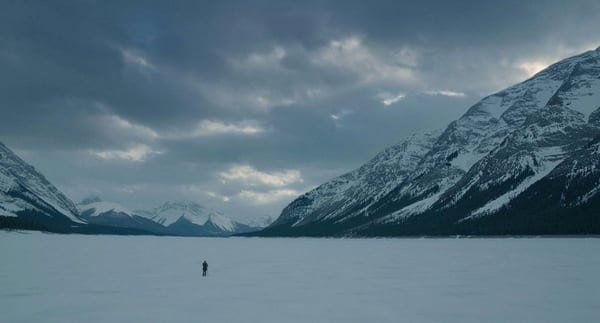 OK thanks, any shouts?
Just thank you for doing this interview Damian as well as guys from Addictive Behaviour who are doing some great work, I'm always pleased to be releasing with them. And a huge thanks to everyone supporting me all the time .
A lot of new music coming, just stick with me!
'Resistance' via Beatport
pre-order vinyl
Minor Rain takes over the AB podcast