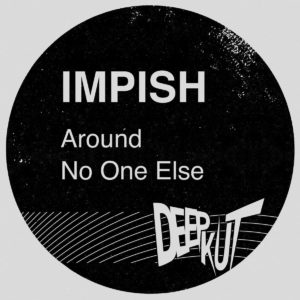 Russian producer Impish has made quite the sonic splash with his debut release on CIA's Deepkut imprint; a vibey 2-tracker flaunting a sound reminiscent of the greats, all the while retaining a unique quality.
With roots in the likes of funk, rock and heavy metal, it's astounding to think the Moscow-based artist only started producing D&B a mere 3 years ago – A testament to his raw talent. We caught up with the man himself to find out more, get to know…
Thanks for joining us mate, what were you doing 5 minutes before we interrupted?
Glad to meet you guys! Was chilling and watching movies.
How would you describe your sound for those who aren't acquainted?
My musical taste was brought up on live music. I love live drums, guitars, keys, and I especially love female vocals, so I'm just trying to combine everything I love.
You have a long history in funk, rock and heavy metal – What inspired the move to drum & bass then?
Drum & bass is just a totally different culture. From childhood I played the guitar and drums, and later even tried to sing, but after graduation some friends introduced me to D&B and I realised with electronic music I can work from the comfort of my home, and wouldn't have to depend on anyone. I started collecting vinyl and realised drum and bass is a truly special scene. It's a lifestyle, not just a musical genre.
Also, for me it's somewhat of a competition in that it inspires me to keep progressing my sound. If I hear drums which sound great, I get really inspired and want to do even better! I believe that it's really important what you do with drums in D&B… I sometimes make house, trip-hop and techno, but this is nothing compared to the love I have for drum & bass.
You've just dropped your debut release on CIA Deepkut – how did the link with the label come about?
I've had a lot of support from FD, and once he offered to send my tracks to Total Science, and they liked them!
Were they a label you always saw yourself releasing on?
Definitely, i've always been a fan of the label, and i'm so pleased to join them because they've released a lot of records from my favourite artists.
I love the drum work in 'Around'! There's a real maturity to your production, are you self-taught?
Yes, and usually I spend a lot of time EQ-ing, compressing and limiting the drums with my dbx 166, but last year my old Mac died… As a result I lost almost all of my samples. I needed to start from scratch, recording, processing, buying, and cutting some new drum samples, etc. I found a lot of new sounds i've been looking for, so now you can hear them in these two new tracks.
No One Else is a real vibe too. Was it inspired by anything in particular?
Inspired by life! 🙂
You've got your own label, Occulti Music – what's the ethos behind the imprint, and where do you hope to take it in the future?
Originally we started out just doing events where we could test the dubplates we cut, then in 2011 we started our first official press run with 300 copies. It was a serious step forward, but about 6 years too late I think. It became clear most of the old tracks were no longer relevant, and I was too picky regarding the sound quality, so we needed to find new stuff… I just want to sign stuff I really like and not worry about what sub-genre it is. Things change so fast in the world of drum and bass these days, it's important to just focus on quality.
We started as a vinyl-only label, but the reality is that trends are changing with new technologies, so it's difficult for all young d&b labels. Not sure where we'll take it in future, we just want to make sure the current direction stays the same: quality music and hypnotic vibes. One thing I am 100% sure of though – vinyl is the best music filter for the label today when releasing music and also for the listener when discovering new and interesting music, but certainly not a cheap filter!
Your Silence LP on the label last year was immense – there's a follow up called Hush due this year, right? Any more details on that?
Yes, Silence was the 2nd album, I included some older tracks which didn't make it on the Underwater LP, alongside some new tracks. It's still my favourite release on Occulti after 'Girl' by Chris Harmonics; dark vibes, dirty, but also jazzy & funky. 'Lie' with Vasilisa Jarlier is my favourite track ever. I spent maybe 6 years remixing it again and again. We did almost 20 versions of this track, so it's a special one for me, but it's not your typical d&b tune.
Hush will be less dark, but still suitable for the dance floor. It will be available on coloured vinyl around October / November, and 2 black vinyl samplers will be up for grabs for DJs.
Your track With You was remixed by Calibre… Must have been an honour to be remixed by one of the scene's greatest, and to get his take on an original track of yours! How did the remix come about?
Fokuz is my second home, and one day Dreazz from Drum Origins asked if I would like to have a remix for the next vinyl on his label… I answered something like: "would be cool if it was from Break or Calibre", and that was it!
A lot of your arrangements remind me of Break and other established artists, all-the-while retaining a real unique sound of your own which is no easy feat! Who are your greatest influences?
When it comes to drum and bass then Total Science, and yes, Break! I have a tonne of his vinyl; also sir Zero T, Calibre, Alix Perez, and the list goes on…
You're based in Moscow – So many brilliant artists are from Russia, what's the scene like over there?
If we're talking about partying, then the local scene in Moscow is like a battlefield of promoters, if you know what I mean! I'm trying not to be involved and to stay out of such things, and that's why we started our own monthly event called "Burning Series" over 10 years ago now, with 300-400 people consistently coming to party with us in our small club in the heart of Moscow. I think it's one of the most successful underground d&b events in Moscow over the past two years at least!
Things used to be a lot different 6-8 years ago with big parties each week, cool line-ups with a couple of internationals a couple of times a month, but now it's more focused on the smaller, soulful events. If you're ever in Moscow, then be sure to come to our party! Always on the beginning of the month, check our site if you're in town!
So where to from here? Plans for the rest of the year?
The Hush LP is due for release this year as mentioned before, along with 2 album samplers in the coming months. Also plenty of goodies coming in the next 12 months: Long-awaited remixes and production from Zero T, FD, RoyGreen & Protone, Cutworx & Agbo, so keep an eye on Occulti Music and sub-label OCT:LTD.
Any final shout outs?
Thank you for the interest and questions guys! I am very grateful to all people involved in these various projects. Shouts & many thanks to all family, especially my Mom! And shouts to Intelligent Manners, Command Strange, Chris Harmonics, Zero T, FD, DJ Marky, Satl, Marco Grijsen & the Triple Vision crew, Stunna, Selah Sue for inspiration and great music!
The most talented singers ever – Vasilisa Jarlier, Kate Wild, Wednesday Amelia, and also Ben and Chris 'Soligen & Type 2', Agbo, Cutworx, Paul A.F, Enei, Eliara & Elena Avilova for the amazing album artwork for Hush, Jim at RAM, Total Science, Malaky, Svetlana, Skyweep, B.S. & Occulti Musica crew, as well as all the fans! Make peace, not war!
Around / No One Else is out now, get it here.
Impish:
Facebook
SoundCloud
CIA:
Facebook
SoundCloud
Link with Drum&BassArena on:
Spotify
YouTube
Mixcloud
Facebook
Twitter
Subscribe to our weekly newsletter