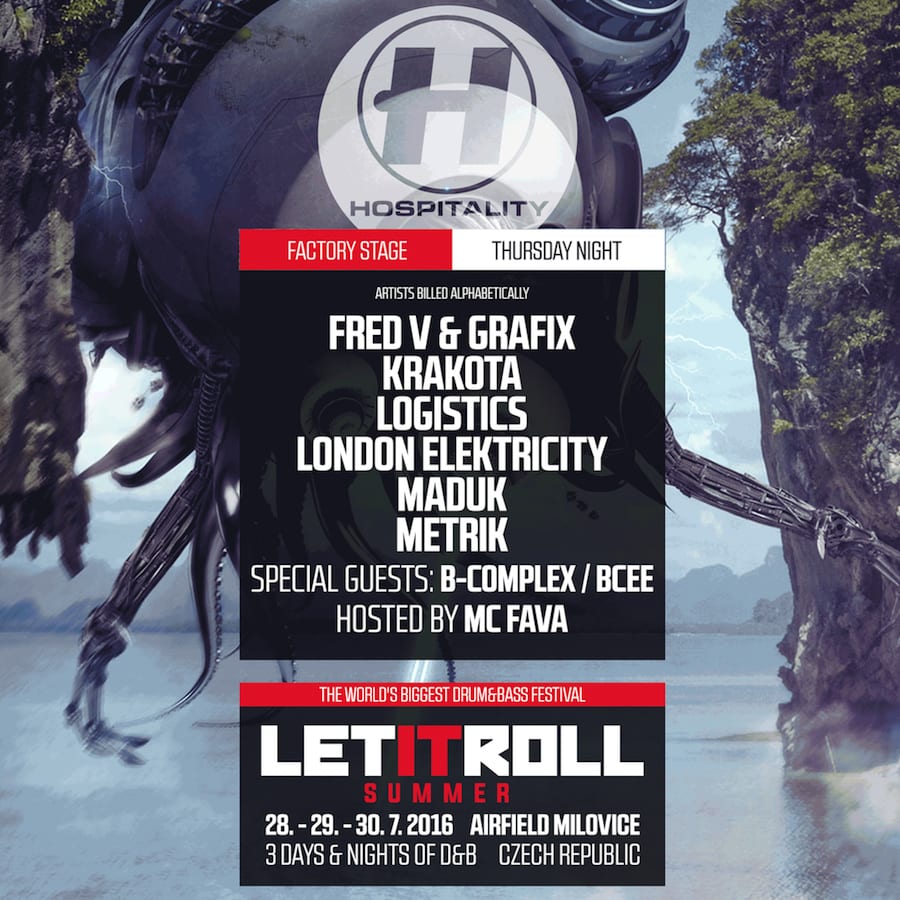 With the Hospital Records family hosting not one, but two stages at Let It Roll this year along with their Med School counterparts, they've unleashed the Hospital Goes to Let It Roll EP featuring Logistics, Krakota, Anile and Whiney in the lead up to the event.
Showcasing the broad spectrum the two labels are renowned for, the EP is a surefire sign that each of the artists performing is going to be armed with some serious sonic treats come July, and we. are. READY.
We caught up with Logistics, Anile, Krakota and Whiney to see what they're looking forward to most at the world's biggest D&B festival…
LOGISTICS
"This is the first time i'll be playing at Let It Roll – been hoping to play there for a while so it's great to finally be out there for it, and this looks set to be the biggest event they've done to date. Seriously can't wait!
What makes the festival special is that it's solely focused on drum & bass. It's amazing to see how strong the genre is right now and also the depth and variety it has to offer. Let It Roll covers most aspects of the scene and I think that's a great thing to have so many aspects of the music in one place.
I'm really looking forward to performing, and since there is so much variety across the stages I'll probably have a walk around and listen to some DJs that I wouldn't normally share the bill with. There are also some of my favourite DJs there like Marky and Culture Shock who I'll be sure to check out!"
ANILE
"I'm looking forward to hearing sets from some of the best DJs in the game.. The event has some real varied styles of drum & bass so it will be great to see and hear different music across the board. As well as it being held in one of the best countries for drum & bass, it's a perfect cocktail for everyone involved to really enjoy themselves!"
KRAKOTA
"I've never played at LIR before, but I love Prague and seriously can't wait to come back on the 28th! There are very few D&B festivals on the globe, so to be able to pull one off at this scale is a great thing for Drum & Bass. Prague is the perfect place for it, the scene is really strong out there (as is the beer). 
I'll be launching my album 'Strange System' the same weekend of the show, so i'm really looking forward to playing some of the LP, catching up with the other artists and meeting some of the LIR crew!"
WHINEY
"This will be my first time at Let It Roll, and actually my first time at a major festival (I know, what have I been doing with my life?), so I'm looking forward to killing two birds with one stone! As Loggy said, the fact that it's specifically D&B orientated makes it standout from every other festival in the world. The huge numbers it attracts to a single-genre event is incredible and so encouraging for everyone involved in the scene.
I'm looking forward to performing there for the first time and unleashing a lot of new music, but also checking out as many of the other stages as possible and meeting as many people as I can in the time that I'm there."
The Hospital Goes to Let It Roll EP is out now. Get it here.
3rd release tickets for Let It Roll almost sold out. Get tickets here.
Logistics:
Facebook
SoundCloud
Anile:
Facebook
SoundCloud
Krakota:
Facebook 
SoundCloud
Whiney:
Facebook
SoundCloud
Link with Drum&BassArena on:
YouTube
SoundCloud
Spotify
Facebook
Twitter
Subscribe to our weekly newsletter